Home
Tags
693-701 Newark Avenue
Tag: 693-701 Newark Avenue
The project at 693-701 Newark Avenue in Journal Square, Jersey City would include 300 units, "pop-up retail locations," and more.
The 25-story mixed-use tower will be home to a hotel, residential units, a daycare, and more.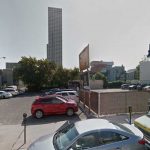 Jersey City officials are now accepting proposals for new developments at the site of a Newark Avenue parking lot. A City agency is hoping that proposed projects will include a boutique hotel.