Home
Tags
227 Coles Street
The Secaucus-based company has submitted plans to add recreational pot distribution and a lounge to their approved Jersey City project.
Harmony Foundation will be converting an industrial building into a two-story dispensary that includes several retail areas.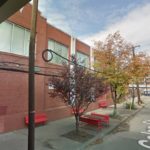 Secaucus-based Harmony Foundation, who are also opening a facility in Hoboken, has applied to convert a Downtown property into a 16,000-square-foot dispensary.