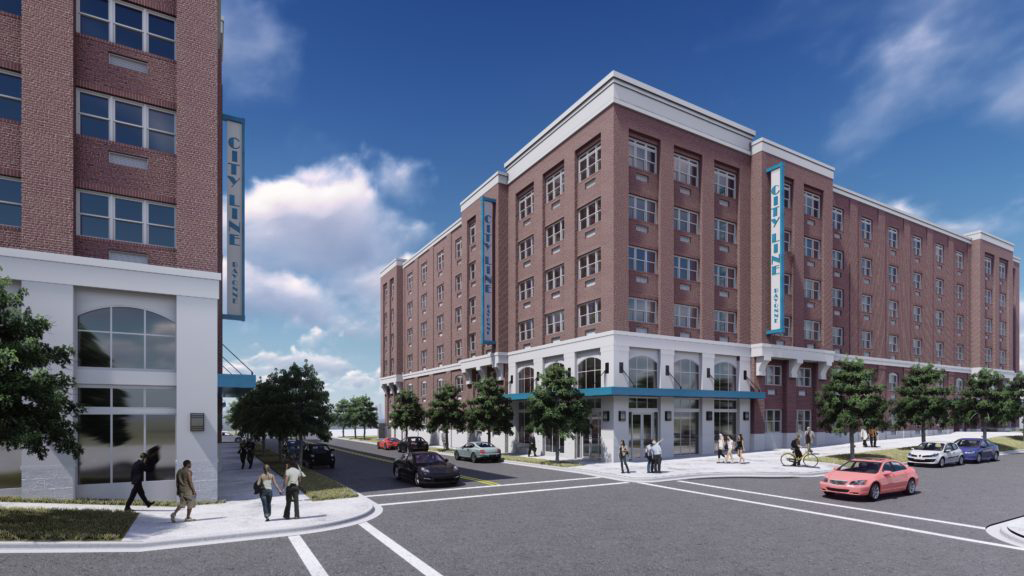 New residential projects in the Peninsula City have become somewhat of a hot-button topic that played out as an election issue earlier this month. But despite the mixed feelings, new developments are starting to pop up around Bayonne, and the latest one was officially approved by the planning board last week.
Jersey Digs reported last month about a proposal from The PRC Group that was pitched for 317 Avenue E and a parking lot across the street from that property. The two-building development was to consist of 162 total rental units between dueling six-story structures at the corner of East 25th Street.
The project will feature a mix of units, ranging from studios to two bedrooms and is designed by Feinberg & Associates. A newly released rendering reveals that the development is being dubbed City Line Bayonne, although it is not particularly close to neighboring Jersey City. The city's planning board officially approved the proposal at their May 8 meeting.
The site currently houses the aforementioned parking lot and St. Joseph Cathedral, a building that is well over a century old. It had served as a Roman Catholic facility for over 120 years but switched over to Syriac Catholic in 2011. The building is currently vacant, has been officially desacralized by that congregation, and will be torn down as part of the redevelopment.
That reality perhaps highlights Bayonne's problems with the demolition of their historic properties. The city currently has no official process for deciding what should and should not be preserved, and the Bayonne Historic Preservation Committee has no legal standing in such proceedings.
Nonetheless, The PRC Group will build the first 67-unit phase on the empty parking lot before constructing the 95-unit component at the site of the church as part of the second phase. Greg Lentine, Vice President of sales and marketing at PRC Group, told Real Estate NJ that a groundbreaking will occur on the project sometime next spring and each phase of the development should take about 18 months to complete.