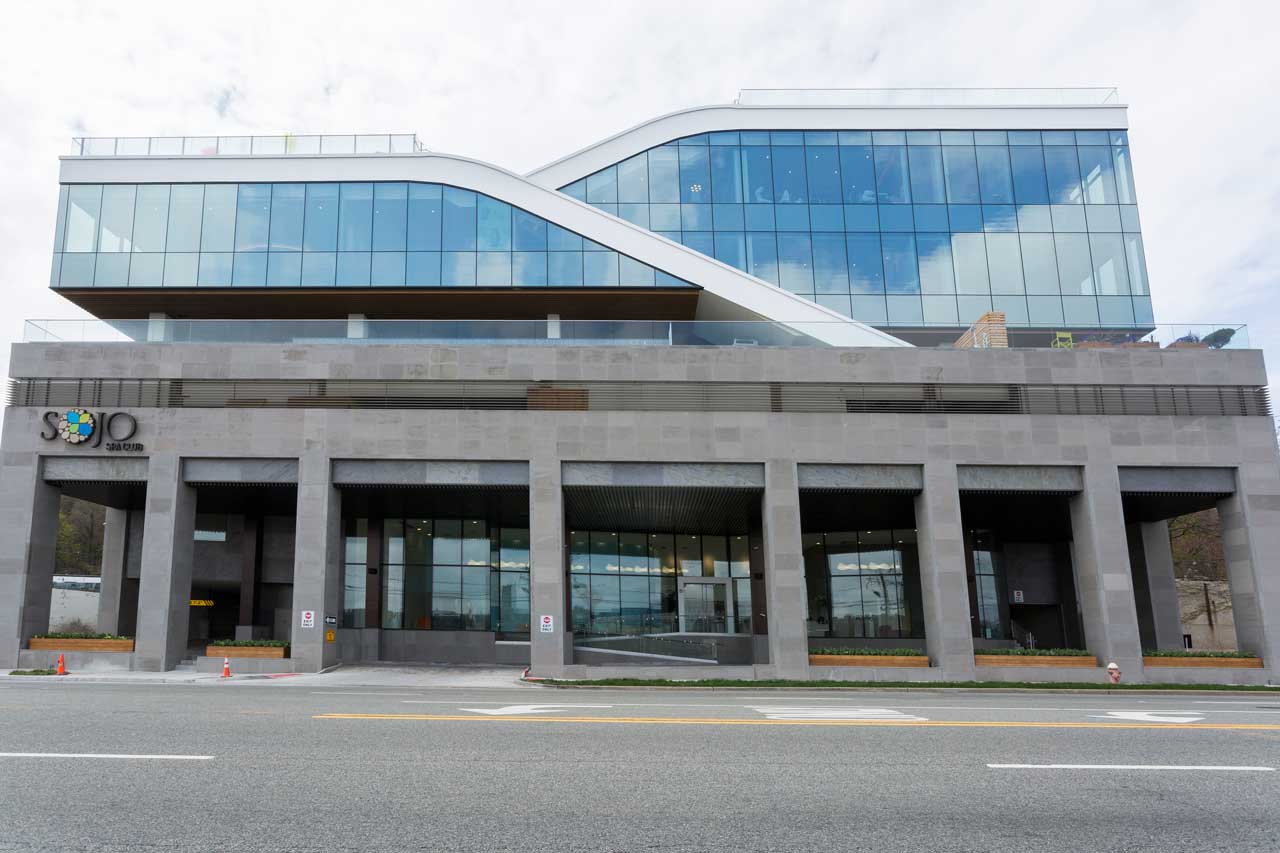 Most days, especially in the colder months, a cloud of steam floats off the top floor of a recently built modern building along River Road in Edgewater. The building, home to SoJo Spa Club, is a Korean, full-service, retreat-style spa, one of the largest in the U.S, and one of the best luxury spas in NJ.
Built from the ground up, the eight-level facility is a playground of relaxation featuring a unique mix of treatments from various spa cultures around the world. Spa-goers can freely move about through each of the spa's treatment options, whether it's going for a dip in one of nine outdoor pools and therapeutic baths or spending some time in one of their seven different types of saunas.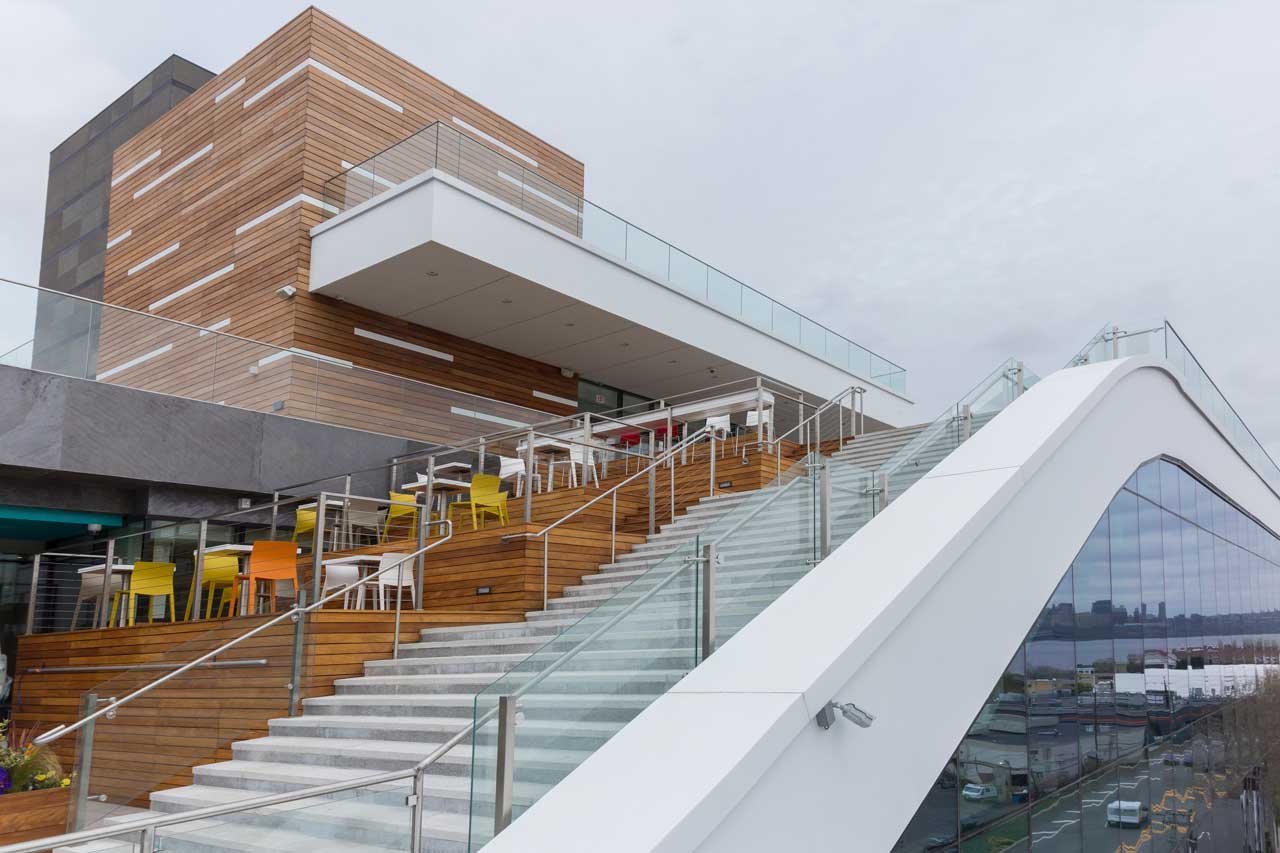 Beyond the saunas and pools, SoJo offers shiatsu and foot massages as well as a full-service ESPA spa featuring facials, massages, body and nail treatments. And for a completely immersive experience, SoJo is also home to a 32-room hotel where guests can spend a weekend escaping reality for a complete refresh.
Creating this refuge amidst an urban landscape was a feat in itself. To create such specific experiences, designers needed to carefully plan every detail even down to sourcing the right materials. The team tapped Porcelanosa to help choose the right products for their wide range of applications. From tile and wall treatments to signage and even manicure stations, Porcelanosa's diverse product line is found throughout the spa.
Although best known for their elegant tile products, it's the company's Krion that steals the show at SoJo. In the lobby, reception desks were crafted from the material. Beyond that, the highly thermoformable solid surface was used throughout for various applications including signage and accents. More uniquely, and indicative of its durability, each individual manicure station in the nail salon is made of white Krion — a perfect choice considering the daily use they get. And now, a year after opening, the stations still look as white as new. Since Krion is completely non-porous, it is essentially stain proof.
More of the company's products are present in the hotel portion as well where bathrooms feature Porcelanosa-branded sinks and faucets.
Outside, a section of the building is clad in the company's proprietary custom façade system, which offers functionality, durability, and good looks. Ventilated façades have been in use in Europe for years, and thanks to Porcelanosa's presence in both markets, the company was able to be one of the first to offer the product stateside. These ventilated façades can give new or existing structures dramatic, modern, new exteriors that improve energy efficiency and offer exceptional strength and resistance to fire, wind, and rain.
Porcelanosa has expanded their product line to become a one-stop shop for a variety of products. In addition to the Krion profiled above, the company's line includes everything from bath and kitchen faucets to ventilated façades and raised access roof deck flooring. Porcelanosa is also vertically-integrated, meaning they manufacture and distribute their product lines, allowing for more precise delivery timelines as well as offering customers almost endless customization options.
For developers, the company offers a team of Architectural and Design Specialists. A single point of contact simplifies the buying process while allowing for more attentive customer service. By providing full-service solutions, including installation and project management help through every stage, developers have one less thing to worry about. With a warehouse in Ramsey, New Jersey, the partnership and the product is never far from any project — Porcelanosa is effectively on-site and able to talk through or troubleshoot any part of the process.
Porcelanosa's team of Architectural and Design Specialists are standing by to put together a one-stop, custom product package for your next project, whether you need kitchen, bath, plumbing, tile, flooring, or façade.
To learn how Porcelanosa can help you design your next project, contact Donna Levy at [email protected].
To learn more about SoJo Spa, including daily rates and hotel room availability, visit their website at SojoSpaClub.com
—