Officials gathered yesterday to mark the opening of a 152-suite Residence Inn by Marriott hotel at 80 Christopher Columbus Drive, the latest addition to the Columbus Towers project.
The new hotel is the first national brand in downtown Jersey City away from the waterfront, and the first hotel near the Grove Street PATH. The mainly suburban hotel brand, the 4th largest in the Starwood portfolio, is now moving into more urban markets. An extended stay concept, the brand is angled toward both business and leisure travelers. The franchise is owned by a joint venture entity of Ironstate Development Company and Panepinto Properties.
"The Residence Inn Jersey City provides a much-needed extended-stay hotel option in an area that already offers terrific public transportation, a walkable setting, and proximity to Jersey City's financial district, midtown and downtown Manhattan, Wall Street, and other points of interest," said David Barry, president of Ironstate Development Company. "We are excited to partner with Marriott and its globally-recognized Residence Inn brand, and are confident the hotel will appeal to business and leisure travelers, both as a stand-alone destination and as a launching point into New York City."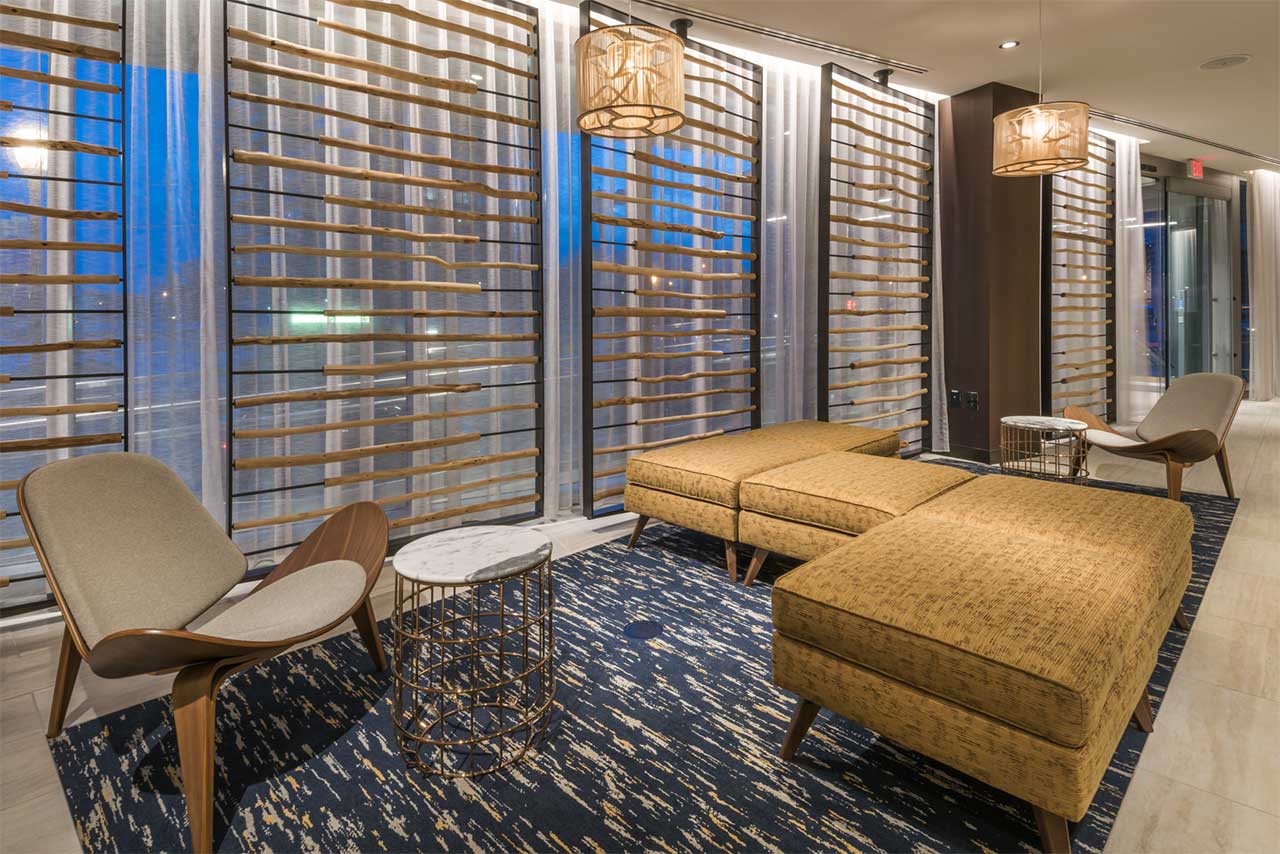 Jersey City Mayor Steven Fulop remarked on the developers' vision for the project. Working with the city, Ironstate and Panepinto Properties formulated a workable plan to fill in a long-vacant lot while incorporating an existing PATH entrance. Designed by Minno & Wasko Architects, the building appears to sit on stilts, hovering above the PATH station entrance.
Also in attendance, U.S. Senator Robert Menendez touted the opening as another clear indicator of Jersey City's rebirth. As a former mayor of Union City, Menendez has been a long-standing proponent of transit-oriented development and credits Jersey City's success in large part to its transit options.
The 14-story hotel offers a mix of studio and 1-bedroom suites. Designed for both short and long-term stays, each suite also has a fully-equipped kitchen with a coffeemaker, microwave oven and residential-sized appliances, while one deluxe suite features an oversized balcony, a rarity in hotel offerings. The hotel also features a full-service bar, and a rooftop patio offering breathtaking views, a barbecue grill and fire pit will open in 2018.
As a tribute to Jersey City's art scene, the developers commissioned 240 works of art by regional artists, many of whom are Jersey City residents. The collection of paintings, sculpture, and embellished limited edition prints was curated by Stefania Panepinto of Panepinto Fine Art and are displayed throughout each of the hotel's guest suites and public amenity spaces.