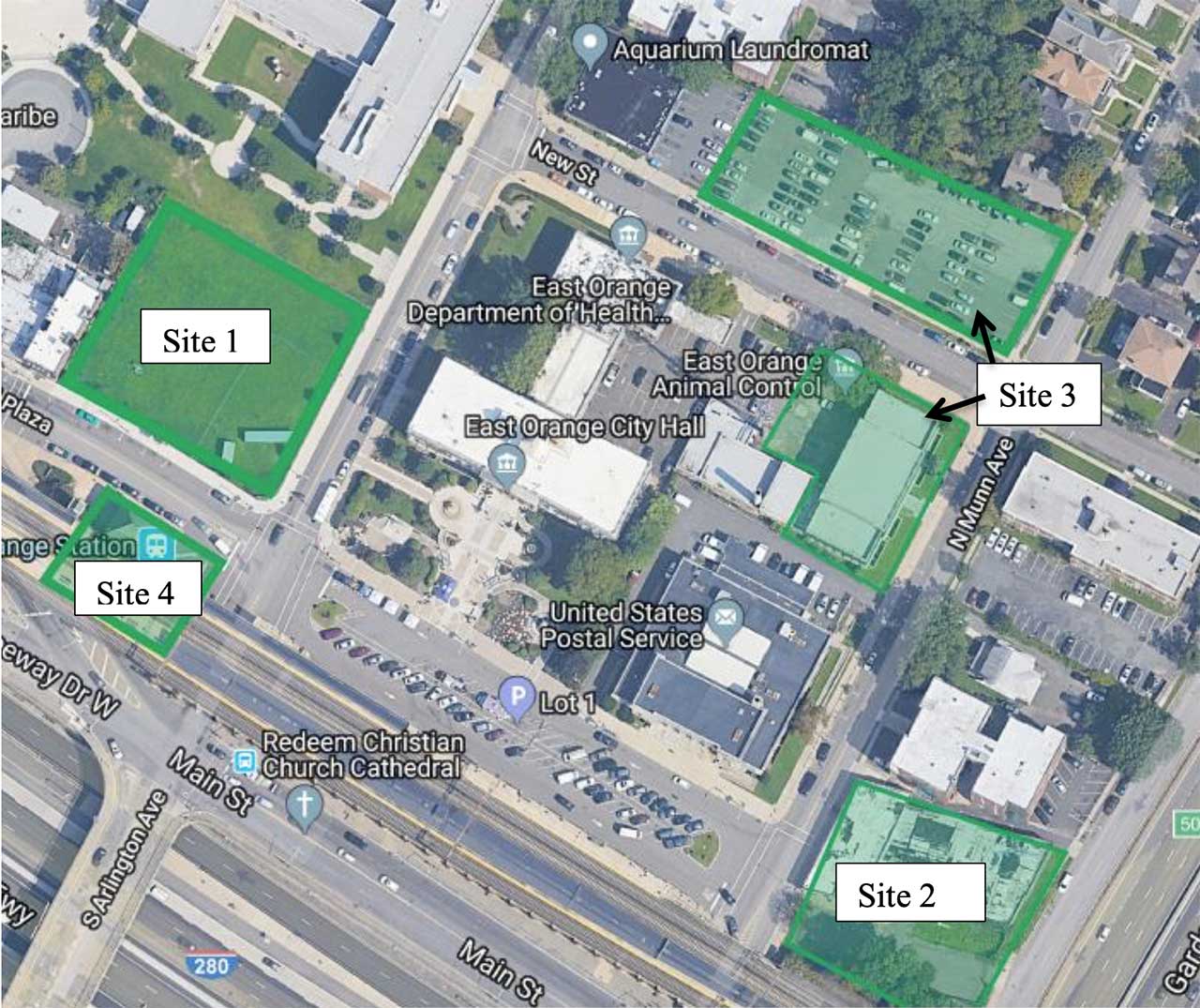 Municipal officials in East Orange did not have to go far to identify properties in Essex County's second largest city that they want to be redeveloped. The City of East Orange is looking for developers interested in several locations, all of which are within a stone's throw of City Hall Plaza.
A Request for Qualifications (RFQ) issued on March 12 shows that "statements of qualifications and performance data from developers" are being sought in connection with four sites, one of which is the East Orange stop on New Jersey Transit's Morris and Essex Lines. The RFQ states that New Jersey Transit is offering to lease the station building for five years and that the municipal government "is pursuing a longer-team lease," adding that "the City intends to sublease the building to the designated redeveloper."
Nearby, at 40-48 North Munn Avenue, a one-story vacant building that once contained the Family Development Center day care facility is once again being envisioned as the site of a new project. The RFQ notes that it is expected that the designated developer will tear down the building "to create a higher-density development" while preserving, relocating, or reproducing public art around the premises. Back in 2017, an approved resolution called for having a two-building 130-unit development be built at the site by Garden State Equity Group, LLC.
Just a few yards away, changes could be coming to the properties at both the northwest and southwest corners at the intersection of North Munn Avenue and New Street. While the tracts at the northwest corner currently contain surface parking for municipal employees, the City of East Orange "envisions these lots being converted into a parking deck or a deck with municipal office uses," though firms responding to the RFQ can provide other proposals. At the southwest corner, the long-vacant former home of the East Orange Police Department is a building that the municipal government "would like to see restored exclusively with municipal office uses or a combination of municipal and other commercial uses."
The final location consists of five adjacent lots at the northwest corner of City Hall Plaza and North Arlington Avenue that are listed as contaminated, including 60 City Hall Plaza. These properties sit in front of the Cicely L. Tyson Community School of Performing and Fine Arts. The RFQ does not state what the City of East Orange is envisioning for the tracts, but notes that control of three of the parcels remains in the hands of the New Jersey Schools Development Authority and the East Orange Board of Education.
The RFQ claims that more than $1 billion worth of development activity is under construction or being proposed in East Orange. The document references the $400 million Crossings at Brick Church Station development, a project that Jersey Digs has been following since it was proposed last year, noting that "the Crossings will replace, expand and modernize the existing Shoprite, provide additional retail anchors and eating establishments, and add 800 units of housing." It also states that the City of East Orange wants to "transform this dormant uninviting corridor [Main Street/Dr. Martin Luther King, Jr. Boulevard] into a bustling, walkable corridor with street level restaurants, retail and boutique shops, with residential and office uses above street level retail."
Interested developers may only submit one proposal and will have to waive "its rights to challenge the City's determination to enter into negotiations with another respondent(s)." Responses to the RFQ are due on April 22.