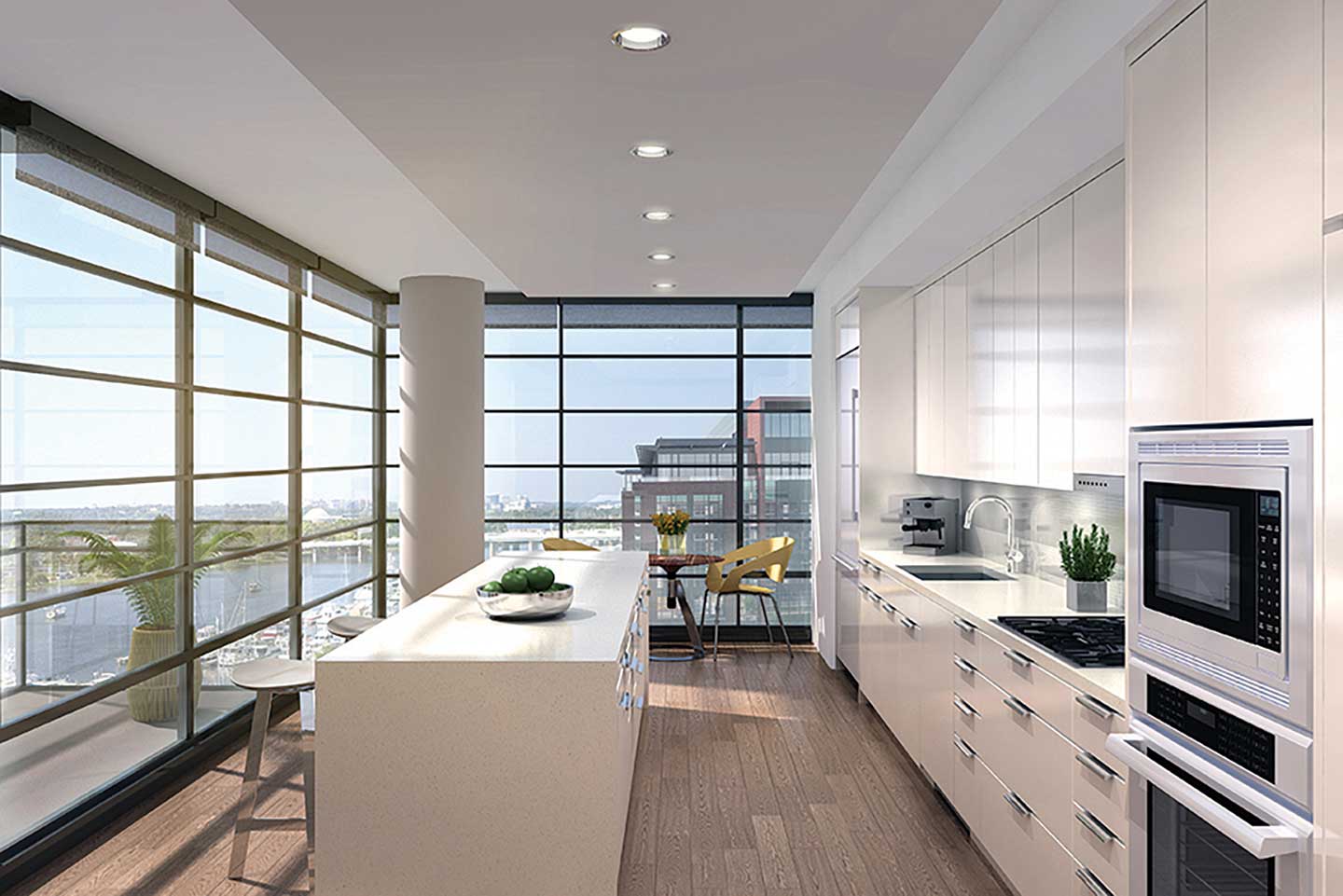 Porcelanosa is so much more than tile. The manufacturer, headquartered in Spain with local showrooms in New York City and New Jersey, is truly a one-stop shop for any kitchen or bathroom project at any price point.
Porcelanosa designs, manufactures, distributes, and installs a diverse product line all while providing extremely hands-on service and on-site expertise through their outside sales team of Architectural and Design Specialists. This outside sales team is becoming increasingly popular with local developers who realize the value of streamlining their design and procurement process.
They specialize in porcelain tile, but more than that, Porcelanosa is a global leader in the marketplace, constantly innovating and setting trends around the world.
As many developers know, kitchens sell. Renters and buyers are getting back to basics and spending more time in the kitchen, cooking and socializing. Gone are the galley kitchens of post-war, wedding cake apartment buildings, and here, for now, is a sincere desire for a suburban space in an urban environment.
To fill this demand, Porcelanosa offers three kitchen collections each at different price points.
The Projects Collection is best for high volume and time sensitive kitchen projects. This budget friendly line is durable enough for a rental project while still providing a sleek, contemporary look.
The next step up is the Residence Collection which offers a wider range of organization and storage options to create a very functional custom look and feel.
The Emotions Collection is the company's top of the line offering: in addition to a wide array of sizes and styles, the line features cutting edge mechanisms, an exclusive finish creating super slim drawers that maximize space and storage.
Also available are innumerable custom and space saving options like pull-out trash/recycling bins, countertops with integrated sinks, built-ins that organize everything from silverware to saran wrap, seamless cabinet-front/appliance integration, and well-planned pantries for storing more in less space while still easily accessible.
Porcelanosa is a powerful partner on any project. By providing full-service solutions, including installation and project management help through every stage, developers have one less thing to worry about. With a warehouse in Ramsey, New Jersey, the partnership and the product is never far from any project–Porcelanosa is effectively on-site and able to talk through or troubleshoot any part of the process.
The size and power of Porcelanosa is unmatched in the field and they inspire through their diversity of gorgeous products, expertise, and collections designed to make every urban kitchen affordable and a place to call home.
To see a sample of the Architectural and Design team's work, check out 718Jefferson.com, a soon-to-be completed project by local developer, Schmitt Capital.
Porcelanosa's team of Architectural and Design Specialists are standing by to put together a one-stop, custom product package for your next project, whether you need kitchen, bath, plumbing, tile, flooring, or façade.
To learn how Porcelanosa can help you design your next project, contact Donna Levy at [email protected].
—