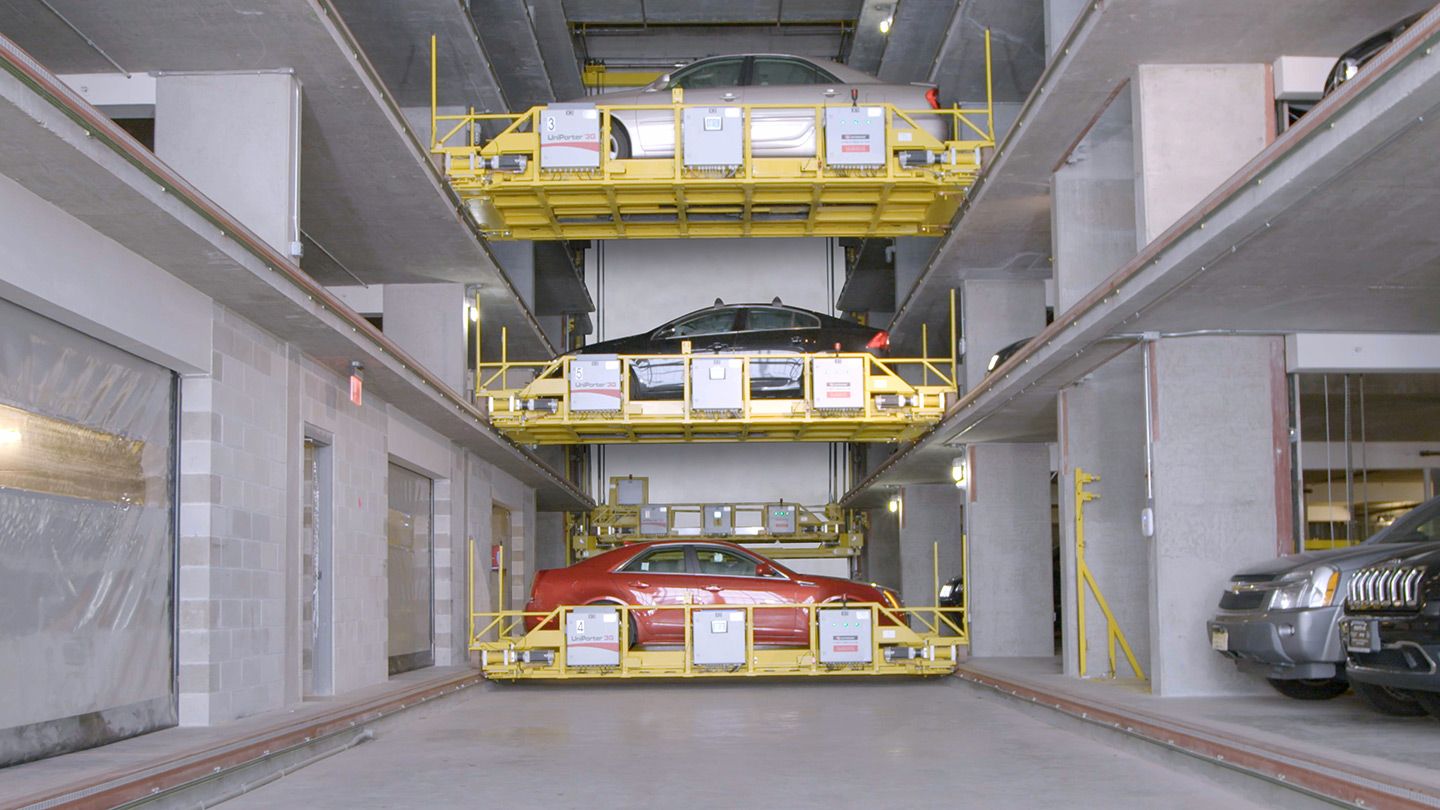 Parking garages are a nuisance. They're costly to build, unsightly, and occupy prime real estate. Developers would love to reduce parking requirements to free up space for more units or more amenities. But the community isn't having it. Less parking in new developments means more cars vying for street spots. Mayor Fulop wants to deter cars altogether and strive for a transit-oriented community, but that requires adequate public transportation. So until that happens, what's the solution?
Well Unitronics, an international automated solutions company, thinks they've found the answer: robots. A long standing leader in automated logistics, Unitronics has now set its sights on parking. By combining existing technologies with their proprietary software, they've created a fully automated parking garage. Their newest installation is at Park and Garden, a recently opened rental building on Hoboken.
As advanced as it sounds, the process to the user is incredibly simple. You drive into a bay, gather your belongings and lock your car. Once you exit the bay, a computer terminal outside the bay allows you to take a ticket or scan your monthly key fob. After doing so, the bay door shuts and you're done.
What happens on the inside is rather incredible. As you walk away and continue on with your day, an army of robotic shuttles, infrared sensors, optical lenses, and cameras take over. Sensors scan your vehicle measuring its width, height and length. The measurements are analyzed and an available spot is assigned. A shuttle travels to the bay and releases a completely independent robotic skid that positions itself underneath the vehicle. Once positioned appropriately, the skid lifts the vehicle at each tire, similar to how a tow truck would pick it up. The robotic skid then returns to its position on the shuttle with the car in tow.
Once the vehicle is safely positioned, the shuttle begins traveling to the assigned spot. If that spot happens to be on one of the higher parking levels, the shuttle makes its way to either end of the garage where a lift hoists the entire shuttle up to the required level. After the shuttle has made it to the spot, the robotic skid transports the car to the final parking spot in the same way it picked it up originally.
Retrieval works the same way only in reverse. You scan your ticket or key fob and the system signals for your car to be picked up. The entire retrieval process takes about 4 minutes on average. However, the system is smart and over time gets to know you if you're a monthly member. Do you usually leave early for work in the mornings? Then the system will reposition your vehicle overnight to a spot closer to the bays. Only take the car out on the weekends? Then it will store your car in a rear spot.
Sounds complicated. Well technically it is, just not to the user. There are no ramps, no searching for an available space. No walking to the stairs or elevator once parked. No driving all the way to the top to realize the garage is full and you don't have a spot.
It's also safer, for you and your car. There are no humans in the garage. So no risk of theft, late-night assault, and no risk of damage from a neighboring car.
Sounds expensive, so why would a developer choose this over a standard garage? Well considering its installed in a rental building there must be something in it for the developers. The biggest incentive is its ability to use space so efficiently. It minimizes space because there are no ramps, no driving lanes, each spot is smaller since doors don't need to open, and each parking level is a different height: one for compact cars, one for larges sedans, one for SUV's, trucks and vans.
At Park and Garden, Unitronics was able to reduce a 10 story parking structure down to 4 stories. This huge reduction in height allowed the developer to build 30 more units. At an average rate of $4,500 per apartment, you can see the added revenue is huge.
As technology finds its way into every aspect of our lives, it's great to see an application where the benefits are so drastic. No one wants a city filled with parking structures. By parking vehicles more efficiently, we can turn those unsightly structures into useful space whether that's more units, more retails or more amenities.
You can watch a video of the process here: