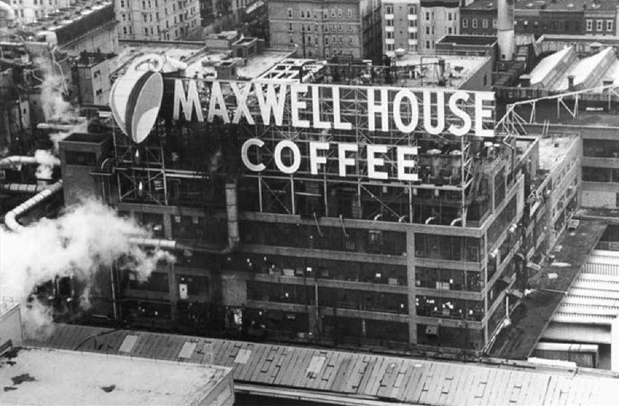 Hoboken boasts some incredible history. From the first ever baseball game played, to the birthplace of Frank Sinatra, Hoboken has some serious material to brag about.
However, fewer people know that a large parcel of Hoboken's waterfront was previously occupied by a major Maxwell House Coffee plant. Once the largest producer of coffee in the world, the plant dominated Hoboken's skyline. Its owner, General Foods Corporation, ran the show at 11th & Hudson Street for over half a century. Its presence was so significant that the aroma of roasting coffee beans could be smelled throughout the city, and even more so when rain was in the forecast.
History of Maxwell House Coffee Plant
Maxwell House's factory opened in 1939 and thrived for years. However, decades later, Hoboken's largest employer and taxpayer started to see their business decline. In 1990, General Foods announced that the Hoboken plant lost a competition against their Jacksonville, Florida plant in determining which operation would stay open.
Two key factors lead to that decision. First, higher wages incurred in Hoboken than in Jacksonville and second, the fact that the Hoboken plant sat on such sought after property that it made more sense to sell it off. Two years later, in March of 1992, the plant officially closed its doors.
The closing had a large part to do with market conditions of decreased coffee consumption and excess capacity at numerous Maxwell House locations. Unfortunately, the closing put hundreds of local residents out of jobs, ultimately leaving a small barge-repair business as the final waterfront business in the Mile Square.
Maxwell House Property Today
Once the plant closed in 1992, real estate consultants were brought in to assess the specific Hoboken waterfront land to determine how to proceed in the changing of the guard for such precious property.
There were also hopes that the famous Maxwell House "Good to the Last Drop" neon sign on the Hudson River would be able to stay as per a plant spokesman. But, as these things go, that too was taken down in 1993.
In 2008, Toll Brothers opened one of the most luxurious communities in Hoboken. Maxwell Place now stands where Maxwell House was once the face of the city. The 24 acres of waterfront land that previously employed over 600 people, consists of over 800 individual condos today.
Maxwell Place offers the best there is in Hoboken with Manhattan views and more amenities to count including a fitness center, a pool, and a rooftop cabana. There are numerous buildings to choose from in Maxwell Place from 1025 Maxwell Lane to the more modern and contemporary style of 1100 Maxwell Place.
The Maxwell House property perfectly illustrates NYC's changing economy over the past century. What was once a major manufacturing hub now houses working professionals. Manufacturing has been moved off shore or to lower cost areas in the US transforming NYC/Hoboken to a predominately service based economy.
Next time you're walking around Hoboken, be sure to keep your cell phone in your pocket and your head on a swivel for evidence of other amazing real estate history!
Jersey Digs is expanding into Hoboken! Follow along on Instagram, Facebook, and Twitter as we document Hoboken's incredible real estate and the stories it tells.