Jersey Digs recently reported on research conducted by nonprofit, nonpartisan group New Jersey Future that found millennials are choosing walkable, urban centers, although, typically outside of New Jersey. New Jersey Future's analysis counters the assumption that the youngest and largest generation is fleeing cities for the suburbs. On the contrary, millennials are demanding a more affordable, easier, car-free lifestyle, and New Jersey just doesn't have enough of it.
Millennials want to be able to walk to restaurants, bars, entertainment, amenities, and transportation, and as they are the country's biggest demographic, the state of New Jersey as well as real estate developers are paying attention. There has been an increase of towns termed transit centers since 1999, and a handful of new developments across the state are building to fulfill the unmet needs of millennials.
"They are leaders in living a less car-centric lifestyle. We as a state need to think about how to attract and retain this generation," said New Jersey Future Executive Director Pete Kasabach. Wright Place at Wesmont Station, Foley Square at Murray Hill, Enclave at Princeton Junction, and Shadow Woods Townhomes are some of the new developments vying to keep millennials in New Jersey.
Wright Place at Wesmont Station has as its community centerpiece a brand new NJ Transit train station. On the Bergen County line, Wesmont Station is two stops from Secaucus Junction where riders can then transfer to a New York Penn Station-bound train, which in total is only a 30-minute commute.
By High Point Development and Somerset Development, Wright Place at Wesmont is a collection of 140 townhomes, starting at $549,990, and the first phase of 70 has nearly sold out. Designed by famed local architect Robert Zampolin and elegantly appointed, the three-story, 2,250 sq. ft. homes are available in four different layouts. The neighborhood is growing rapidly, offering new rental and affordable housing options as well.
Starting from $649,990, Foley Square at Murray Hill by Newstar Homes is a new community of 22 townhomes in the Murray Hill section of New Providence in Union County. Located close to the Murray Hill NJ Transit train station along the Gladstone Branch of the Morris and Essex Lines, Foley Square is a convenient and well-appointed option. High-end finishes, including hardwood floors, classic moldings, and recessed lighting, are available across six different floor plans.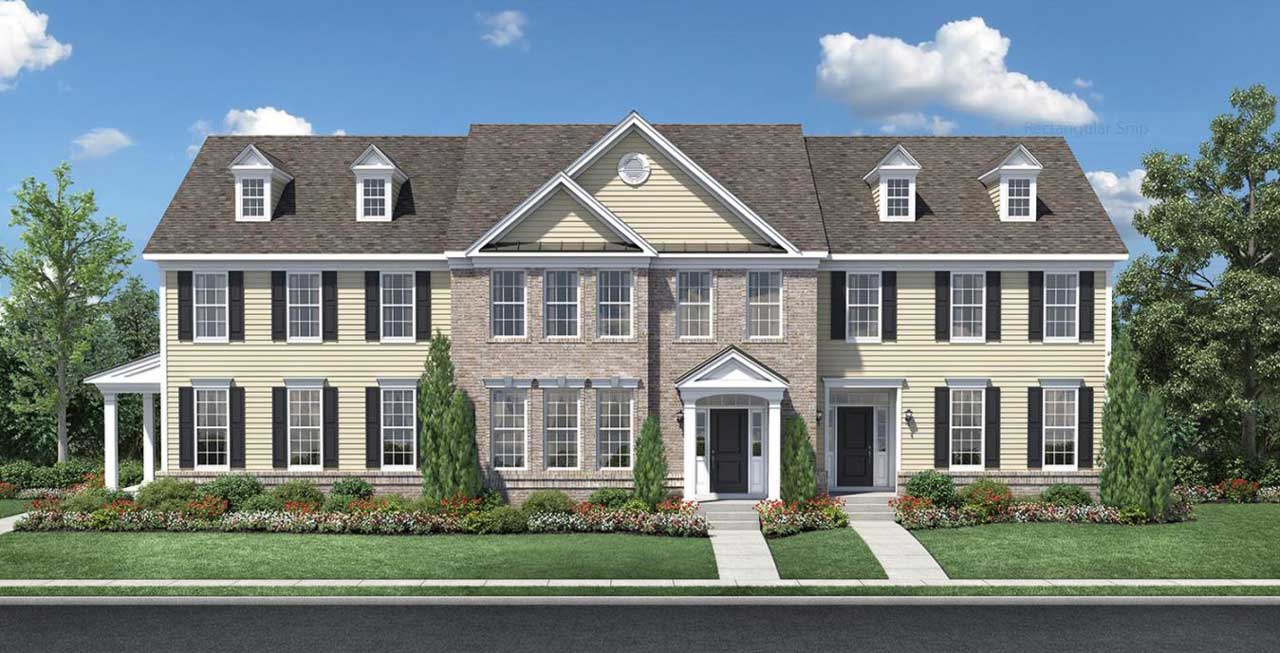 Enclave at Princeton Junction by Toll Brothers is ideally situated within walking distance of the Princeton Junction NJ Transit train station and offers true luxury, starting in the low $700,000s. The well-traveled Northeast Corridor line provides express service to New York Penn Station, and the Junction is just a five-minute ride away from Princeton on the quaint, single train car, fondly known as 'The Dinky'. From Princeton Station, a walk through the gorgeous grounds of the university lands you right in the middle of downtown with plenty to eat, drink, see, and do.
Enclave at Princeton Junction has three different home designs, all in a carriage house style. The level of customization is impressive; a Kitchen Visualizer 3D design tool even allows you to choose kitchen details from cabinets to a backsplash and virtually see how they come together. The community is also within the excellent West Windsor school district.
Starting from only the upper $380,000s, Shadow Woods Townhomes by Ryan Homes in Mt. Arlington is a truly affordable and convenient option. Located only one mile from the Mt. Arlington NJ Transit train station and immediately off Route 80, Shadow Woods Townhomes is a real value play in Morris County. Two home types, up to 2,745 sq. ft., are available, including modern finishes.
All of these for sale, townhome communities are near train stations and residents don't have to sacrifice walkability or urban amenities for more space; consequently, a significant number of buyers to date are millennials. The desired live, work, play balance is easier to achieve in these developments, and if developers continue to keep pace, more millennials might think twice before leaving New Jersey.