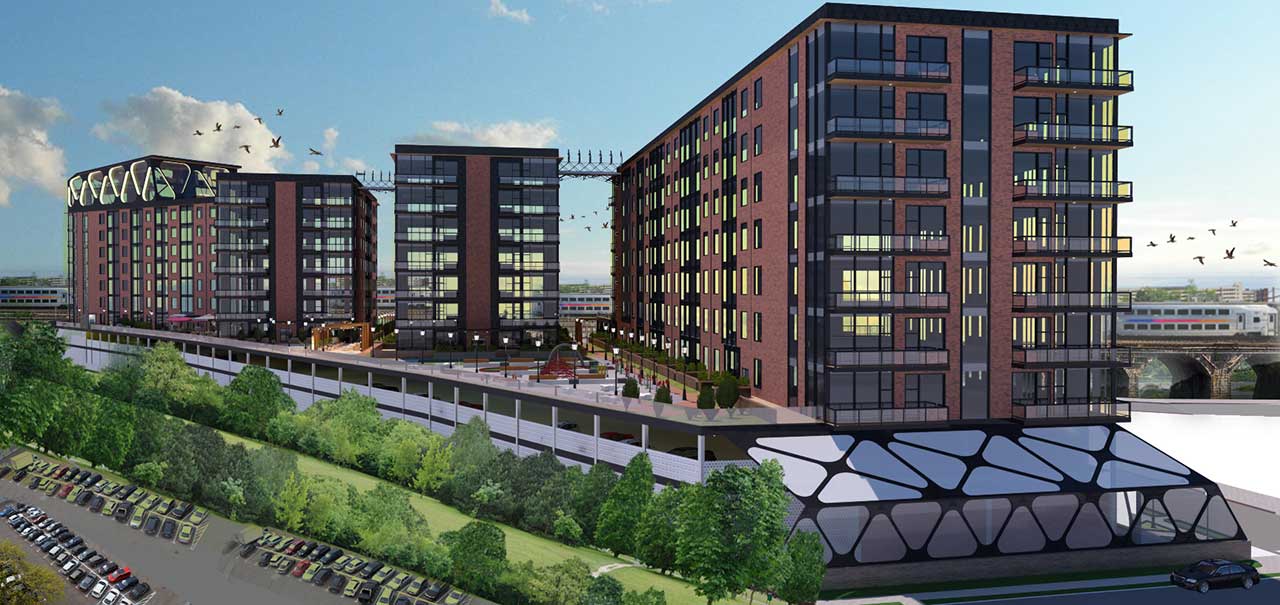 New information has been released about one of the largest mixed-use developments to be planned for Midtown Elizabeth in recent years.
In 2018, Jersey Digs exclusively reported that a nine-story project was being planned for 1166-1236 East Broad Street and neighboring lots near the New York-bound platform at Elizabeth's main train station. C&L East Broad Realty Urban Renewal, LLC's proposed complex, which is expected to bring 300 residential units along with retail space, office space, restaurant space, and 325 parking spaces, was subsequently approved by the Elizabeth Planning Board.
In December 2019, more than a year later, Elizabeth Mayor J. Christian Bollwage approved an ordinance that will allow for the development to receive a long-term tax exemption. A resolution passed the month before by the City Council claims that 370 construction jobs will be created, but also shows that a maximum of 55 jobs in the residential and commercial portions will exist once the complex is finished.
C&L East Broad Realty Urban Renewal, LLC is registered out of the offices of Scalamandre in the Decoration and Design Building in Manhattan. Louis Renzo is listed as the sole member of the LLC.
Jersey Digs obtained a copy of C&L East Broad Realty Urban Renewal, LLC's tax exemption application, which was submitted in November 2019 by Christopher Renzo of Los Angeles. The application states that the developer sought a 30-year tax abatement with annual service charges for the project and that the development will consist of three buildings.
"The relative stability and predictability of the annual service charges provided for in this agreement will enhance the entity's ability of the project to succeed," the application stated. "Absent the grant of the tax exemption, the project would not generate a sufficient return for the project to be economically viable and therefore it is unlikely that the project would be undertaken and as a consequence the goals and objectives of the redevelopment plan would not be fulfilled."
Within the complex's first floor, there are plans for 2,737 square feet of office space, 12,629 square feet of retail space, and 6,003 square feet "of retail/restaurant, plaza area, and parking." On the second floor, a yoga and dance studio, a gym, a conference room, a business center, co-working spaces, and other retail and restaurant uses are envisioned, according to the application. The 300 apartments in the complex will consist of 182 one-bedroom and 118 two-bedroom "market rate" units.
A draft financial agreement between the developer and Elizabeth's municipal government was included in the application and referenced possible "target revitalization tenants" in the development.
"Preferred commercial and retail tenants" would include co-working spaces like WeWork, fast casual restaurants like Honeygrow and Chipotle Mexican Grill, full service and fine dining restaurants, coffee shops, gyms, and "boutique-type retailers."
However, the draft financial agreement notes that with the exception of businesses at The Mills at Jersey Gardens, "target revitalization tenants should not include existing businesses/brands in Elizabeth" along with convenience stores, "budget retailers," nail salons, cell phone retailers, barber shops, check cashing businesses, and fast food restaurants.
Undated renderings posted on the website of James R. Guerra Architects and Planners illustrate what the complex could look like and also show plans for a space on the third floor that would include features such as running trails and a dog run. An October 2018 letter from Guerra stated that the entire project is expected to cost nearly $79 million.
Related: