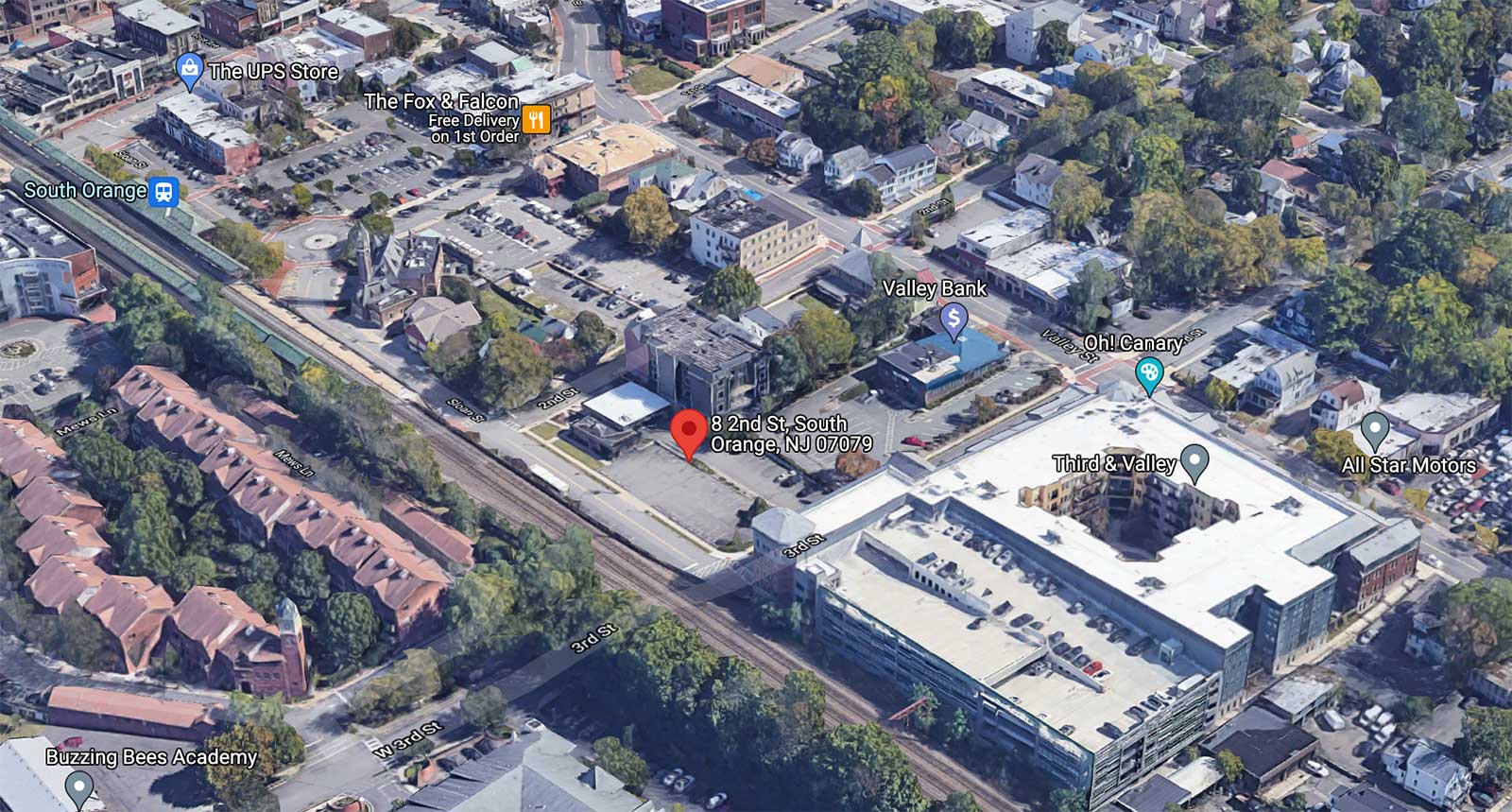 A suburban Essex County property located just feet away from train and bus service to Midtown Manhattan could go from containing a vacant bank to becoming the site of a mixed-use development.
The five-story "Mosaic at South Orange" project is slated to be constructed at 8 Second Street, a tract that takes up roughly half an acre and stretches along Sloan Street to Third Street.
8 Second Street, LLC of Union submitted an application to South Orange's municipal government in December 2021 for preliminary and final site plan approval in order to build 42 residential units and a 1,975-square-foot "artist incubator space."
A public notice described this project as an "inclusionary" development, but did not go into detail. The notice added that around 48 parking spaces are planned.
Site plans from Appel Design Group show that there would be eight one-bedroom units, 28 two-bedroom units, and six three-bedroom units, with six units being considered "COAH [Council on Affordable Housing] units." A "window art display" would also be featured.
A certificate of ownership associates Michael and Jeffrey Markovitz with the LLC. Michael Markovitz is listed online as the founder of Mark Built Homes, a company that has been involved in other North Jersey developments such as Madison Place, The Heights at Tenafly, and Summit Place.
The parcel in South Orange was previously occupied by banks such as Wells Fargo, Wachovia, and First Union, each of which also operated a branch just two blocks away along South Orange Avenue.
Wells Fargo continues to have an ATM at the site where this development is envisioned and refers to the location on its website as its "South Orange Annex," though sales records show that the bank sold the property to the LLC for $1.9 million in 2019.
The lot is situated diagonally across Sloan Street from entrances to both the inbound and outbound platforms of South Orange's main train station. NJ TRANSIT's 92 bus from Newark's North Ward and 107 bus from Manhattan's Port Authority Bus Terminal terminate directly across the street from the premises.
This would be far from the first new development to rise in this part of South Orange, with completed projects like Third & Valley, The Mignote on Second, and Sofi Gaslight Commons all located nearby. Other complexes such as Vose & Taylor and Village Commons are currently being built.
TAPinto SOMA reported last month that the plans for Mosaic had been reviewed by the South Orange Development Committee and that the residential units are expected to be rentals. The proposal is now scheduled to go before the South Orange Planning Board during a virtual hearing on Monday, February 7 at 7:30 p.m., according to the notice.
Note to readers: The dates that applications are scheduled to be heard by the South Orange Planning Board and other commissions are subject to change.