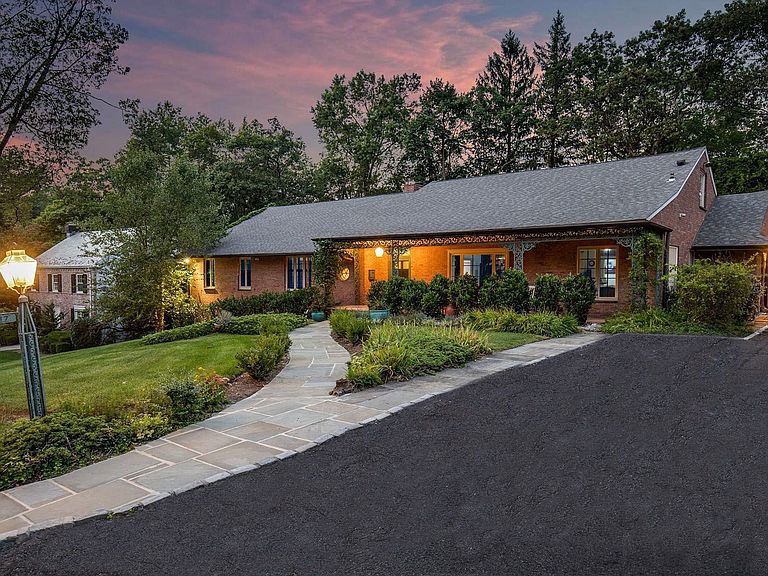 A five-bedroom, five-bathroom house in South Orange — listed recently for $1.15 million — is described as a "Mid-Century Masterpiece" but also has a mix of features and paintings that are thoroughly modern.
The home was built in 1957, so it technically meets its definition as mid-century. But as the description also notes, it's "made for the lovers of contemporary architecture … totally redone with new kitchens, baths, and home systems." It's also got some quirky accoutrements.
The house's dining room features a Last Supper mural for the times you might be questioning your guests' loyalty. The house also boasts Marrakesh-style screens, a wood-finished TV room (presumably not for a black-and-white set), and a finished basement with an exercise room and second kitchen.
The home also features a living room overlooking a pool, an eat-in kitchen with breakfast bar, family room (large enough for a mid-century family of course), powder room, fireplaces, walk-in closets, and stone and brick exteriors.
"Frank, Dean, and Sammy D would be most comfortable chilling out in front of the movie star set pool that can be observed from the gracious sized living room with cathedral ceiling," notes the listing. "Every room in this amazingly restored home was meticulously done with the highest finishes and accessories. No house around will stand the test of time like this couture classic contemporary."
Listing: 17 Overhill Road [Zillow]
Related: