This post is brought to you by Megha Moza of Pure Properties. Want a listing featured? Email us, [email protected].
Located in Newark's Central Ward at 90 Clinton Avenue, Lofts At Lincoln Park is an effortlessly-designed condominium building, bringing only large two and three bedroom apartments to the market. 18 two bedrooms and 6 three bedrooms, all luxuriantly-appointed with two bathrooms, complete the four-story building, and one-third of the residences are currently under contract.
Lofts At Lincoln Park's brick and glass facade is a simple welcoming statement, and a modern glass canopy ushers you into the building which also features a resident's lounge, fitness center, and outdoor space.
The apartments are at once spacious and cozy, ranging from 1,069 sq. ft. to 1,296 sq. ft., and offer large living spaces and ample closets. Beautiful dark hardwood floors run throughout, contrasting nicely with the classic linen white walls and base moldings.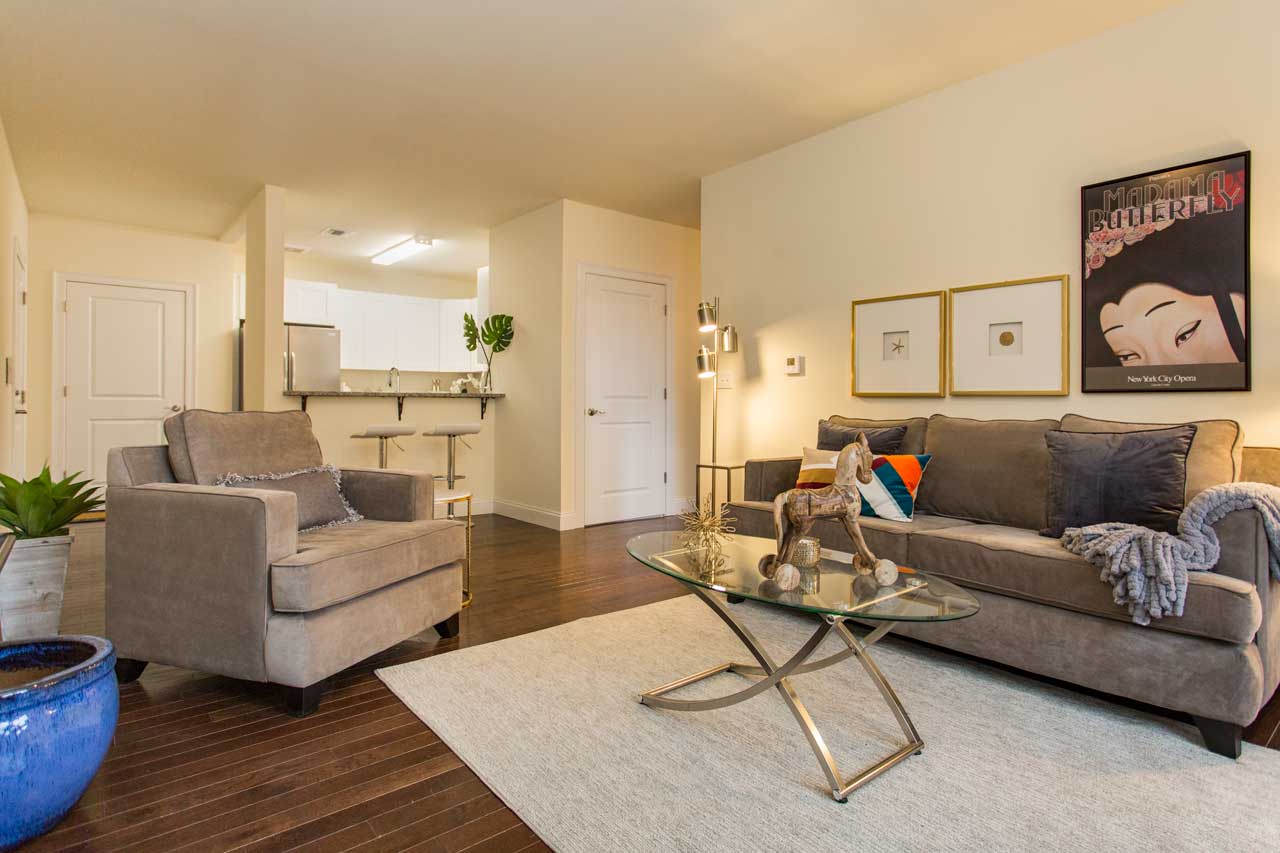 A pass-through kitchen keeps the space flowing and entertaining easy with a breakfast bar and the option for additional seating. Outfitted with clean-front white cabinets, granite countertops, and stainless steel appliances, including a dishwasher and microwave, it's a nice and easy space to spend time in preparing a meal.
Each of the two bathrooms is sleek with grey porcelain tile lining the bathtub/shower, chrome fixtures, and contemporary lighting. The same grey tile provides a wainscot behind the sink and a complementary lighter grey brightens up the floor tile.
Lofts At Lincoln Park's amenities also extend beyond the communal: central air is a nice detail, each residence has a washer/dryer, and deeded parking is available.
"Pure Properties is thrilled to be the exclusive broker for this brand-new condominium project in Newark," says Zeke Ortiz, the brokerage's Managing Director. "Lofts at Lincoln Park is the only active condo development in Newark currently, and with 40% of the homes sold by Pure agent, Megha Moza, prior to hitting the market, it's a clear indicator of the surging demand for the Newark housing market. The Pure team is creating an entirely new benchmark in price per sq. ft. sales in Newark and we're confident the rest of the units will continue the trend of surpassing previous recorded sales for the area."
Walking through the neighborhood surrounding Lofts At Lincoln Park in the Central Ward is a walk through Newark's rich history. Lincoln Park was one of the three original colonial commons, or squares, and the other two — Military Park and Washington Park — are not far. The Central Ward is also home to University Heights, The Coast/Lincoln Park, Government Center, Springfield/Belmont, and Seventh Avenue neighborhoods.
The PATH Train with service to Jersey City, Hoboken, and Manhattan is only a mile and a half away. And the local arts, entertainment, restaurant, and bar scene is truly vibrant. The New Jersey Performing Arts Center (NJPAC) and The Prudential Center are nearby and both host world-class performances and events.
"Lofts at Lincoln Park is a project which is in line with the city's vision and redevelopment plans for Newark. Having been named one of the finalists for the Amazon headquarters the demand for Newark has grown exponentially in the last few months. Mid-Atlantic alliance is excited about teaming up with Pure Properties to ensure a sellout that would create a new benchmark for forthcoming sales in the area," says Victor Baker of Mid-Atlantic Alliance, the property's developer.
Residences are priced from $272,500 to $330,000 and offer a 15-year tax abatement, resulting in low monthly carrying costs. For more information, please visit Lofts At Lincoln Park's website or contact the sales office at (973) 755-1753.
—