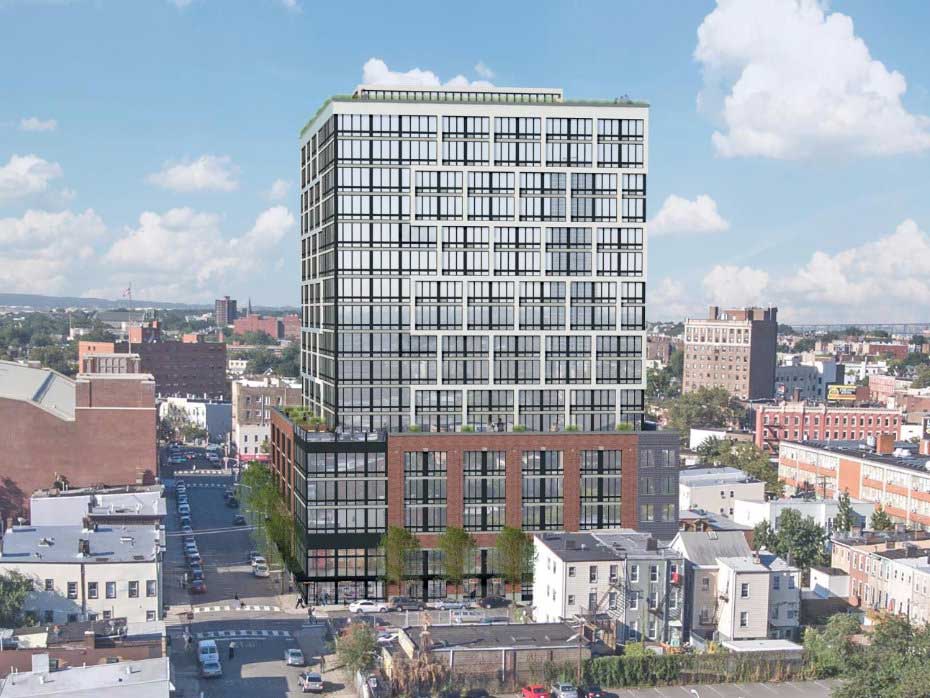 A new 16-story mixed-use tower called 289 Jordan is being proposed near the corner of Mercer Street and Jordan Avenue in the McGinley Square neighborhood of Jersey City. Area residents were informed of the proposal during a neighborhood meeting held in November at Hudson Catholic High School.
The building is slated to include close to 300 residential apartments, including 56 affordable units to meet the McGinley Square Redevelopment Plan affordable housing requirement. 138 units will be studios, while 90 will be one-bedroom apartments, 33 will be two-bedrooms, and six will be three-bedrooms. The ground floor of the building will contain over 4,000 square feet of retail space, 107 below-grade vehicle parking spaces and 147 bicycle parking spaces. Attendees of the meeting were informed that amenities could include a rooftop deck, a gym, and a putting green.
The project is being developed by Mercer Jordan, LLC, which is affiliated with New York-based Sequoia Development. GRID Real Estate, Marchetto Higgins Stieve Architects, and Dresdner Robin are also on the development team.
Mercer Jordan LLC, has taken great pains to design a project that is "as of right", meaning it will adhere to the redevelopment plan without the need for variances. The project has been carefully designed to work within the goals and parameters of the McGinley Square Redevelopment Plan and complies with all current zoning requirements. No variances to existing zoning are needed for development of the project.
Located near the Jersey City Armory, the 0.61-acre property owned by Mercer Jordan, LLC consists of four lots, all of which were acquired by the developer earlier this year for more than $5 million combined, according to NJ Parcels records. The lots, at 26 Tuers Avenue, 533-535 Mercer Street, 543 Mercer Street, and 545 Mercer Street, were previously used as a driveway, a three-story apartment building with a vacant storefront, a warehouse parking lot, and a woodworking facility, respectively. All buildings at the site are slated for demolition.
Although neighborhoods to the north and east have been the site of large-scale development projects, this is one of the first of such proposals for the McGinley Square area, which contains few high-rise buildings. However, its location near Saint Peter's University and proximity to NJ Transit bus lines and the Journal Square PATH station have made it even more attractive to business owners and developers.