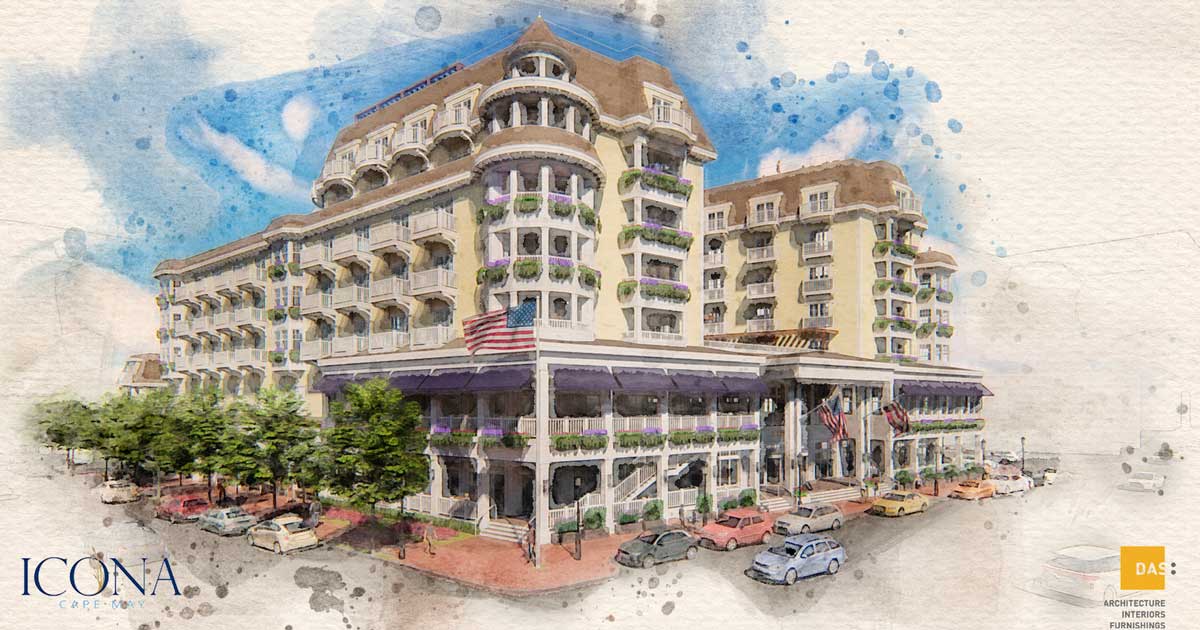 One of the oldest resort towns along the Jersey Shore, Cape May, could be getting a new high-end hotel just steps from the beach, but the plan has sparked a debate about redevelopment in a city that values historic preservation.
ICONA, the company that runs the ICONA Cape May Hotel and several other hotels in the region, has unveiled the full proposal for the former Beach Theater site. The company purchased the out-of-use property in 2019 for $6.6 million and CEO Eustace Mita held a community event earlier this fall inside the Cape May Convention Hall to reveal the design.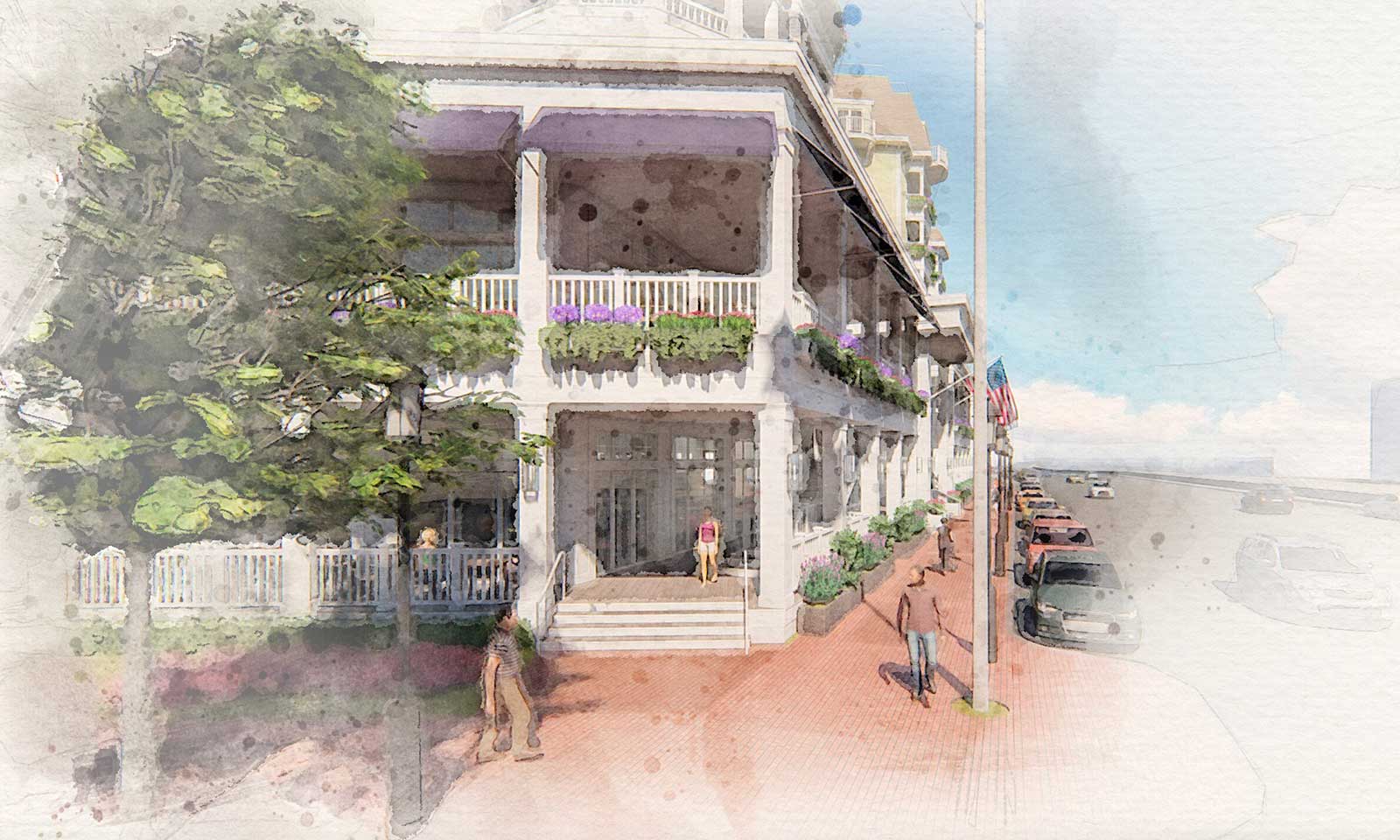 The property, situated along Beach Avenue between Stockton Place and Gurney Street, would be getting a $150 million investment via a five-star, full-service resort hotel under the plan. Designed by Philadelphia-based DAS Architects, the proposal calls for a seven-story structure in the style of a turn-of-the-20th-century grand hotel with 160 rooms and a ballroom space for events.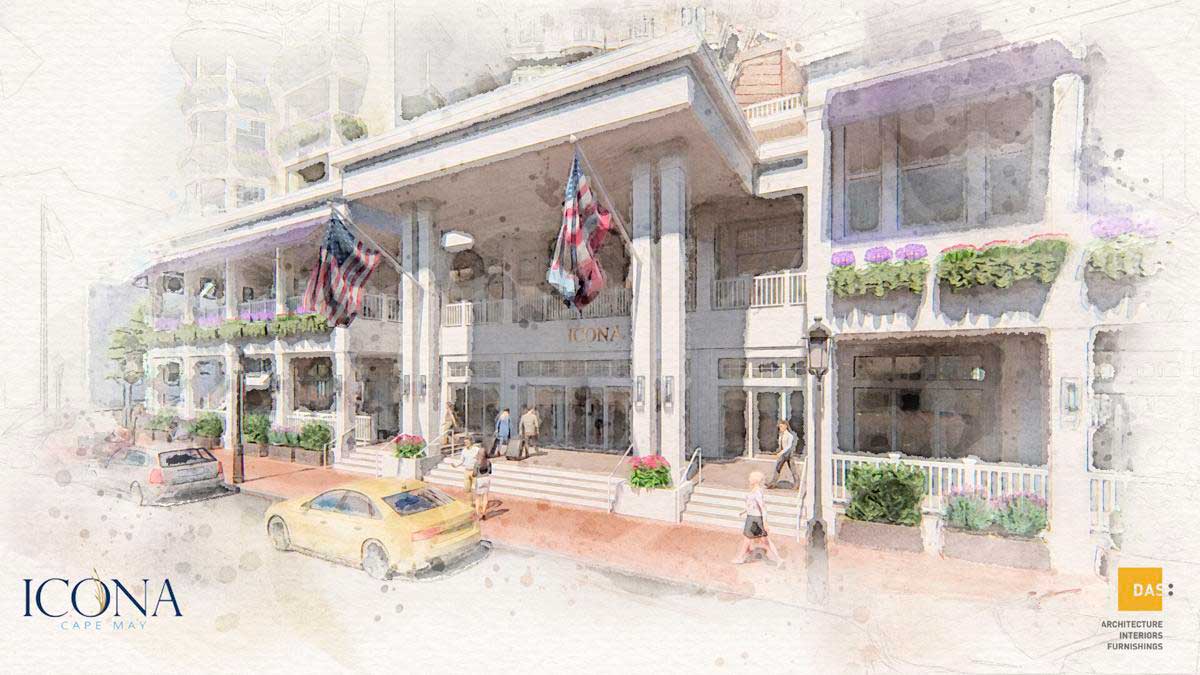 Representatives from ICONA say that the project seeks to blend into the existing aesthetic of Cape May, which boasts one of the largest collections of Victorian homes in the entire country. Eleven retail outlets including three restaurants are built into in the plan, which would see the demolition of all existing structures on the land.
The proposed hotel would also help alleviate some of the city's parking crunch, as 255 indoor parking spaces would be included inside the structure out of sight from the street view.
Mita claimed in an editorial to the Press of Atlantic City earlier this year the number of hotel rooms in Cape May has decreased by half since 2000, mostly due to condo conversions and the demolition of non-historic hotels. The company has asked Cape May to explore a redevelopment zone designation for the area, which would allow them to go around local boards to move the project forward.
Cape May Mayor Zachary Mullock has not been receptive to that suggestion, and the plan as presented appears to require variances from current zoning related to height and density. The redevelopment designation is also opposed by the city council, per the Cape May County Herald.
While the property's future remains uncertain, it's clear that Cape May has become one of New Jersey's most popular destinations. Conde Nast recently named Cape May as one of the 27 most beautiful towns in America, while a USA Today poll crowned the city as the 10th-best small U.S. coastal town. Word Atlas also dubbed Cape May the coolest small town for a summer vacation earlier this year.