The end of 2017 saw a relatively quiet but huge step taken toward increasing open space along the Hudson River, as one township approved plans for a major expansion that will include three outdoor pools and several other trophy amenities.
Weehawken's Waterfront Recreational Park, just north of Lincoln Harbor along Port Imperial Drive, currently consists of several ball fields, a running track, tennis courts, playgrounds, and other facilities spread out among 12 acres. The expansion, approved by officials on December 27th, will add new features in a paved parking area and a fenced off vacant parcel at the park's southern tip, which Weehawken purchased from Hartz Mountain back in the mid-1990s.
The 3.5-acre expansion was designed by Hackensack-based RSC Architects and is one of the more ambitious plans for public space in Hudson County. The recreational pool included in the design sports a slide and a whirlpool area, while an adjacent and separate 6-lane lap pool will be built with bleachers for spectators.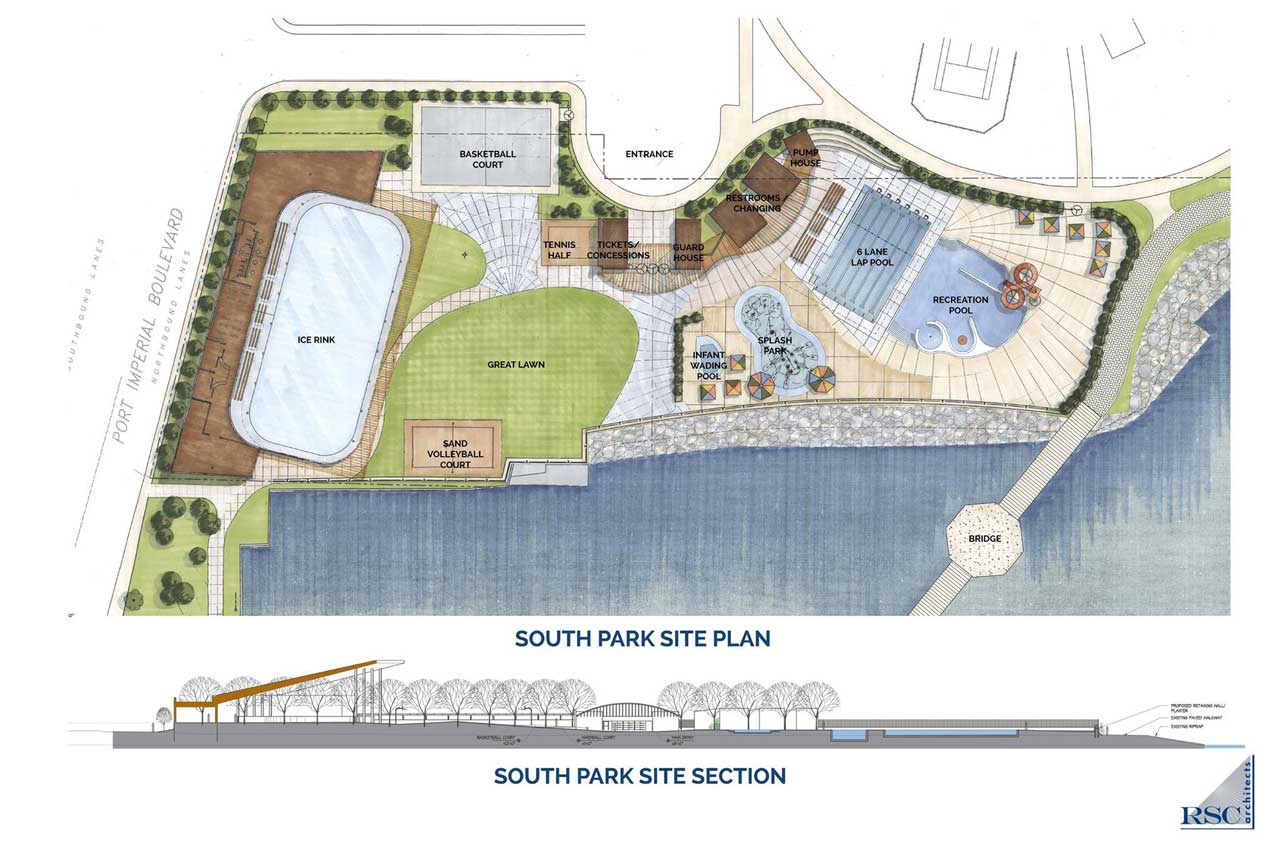 Just next to the two pools with be another pool designed for infants, plus a splash park area. The swimming section will also feature a pump house, changing rooms, a guard house, ticket areas, and scattered tables with umbrellas, plus a publicly accessible waterfront walkway will be built around the pools.
Other additions to the space will include a basketball court, a sand volleyball court, and an 11,200 sq. ft. multi-purpose pavilion that will be utilized as an ice skating rink seasonally. The expansion will also construct a "Great Lawn," which will slope eastward and showcase the New York City view. A new pedestrian bridge will connect across a lagoon to an existing walkway and park in Lincoln Harbor.
The expansion represents what will be the final phase of the park and will cost a total of $10.5 million, which is being paid for by waterfront developer fees, New Jersey's Green Acres Program, and the Hudson County Open Space Trust Fund. Mayor Richard Turner has said those wishing to use the complex will have to pay membership fees, but Weehawken residents will be given priority, and non-residents will likely pay a higher amount.
When completed, the expansion will undoubtedly be a feather in Weehawken's cap. While several private properties along the Hudson River sporting pools have been built, no town along the Jersey side of the Hudson River can boast of a public waterfront swimming spot. Coupled with the continuing expansion of both Lincoln Harbor and Port Imperial, the activity is another sign that Weehawken, while sometimes lost in the shuffle, can't be ignored as a strong market that continues to emerge.
The first phase of construction is set to begin by mid-February, depending on the weather. It will require piling about 50,000 cubic yards of new soil to compact the existing site and raise the property to the level required to meet current floodplain standards. The pool portion of the complex is slated to be open by summer next year, while officials hope the entire complex is completed by the end of 2019.