While there will always be an emphasis placed on one's home (this is called Jersey Digs, after all), the realities of urban living often create the need for great public greenery. Be it in a house, an apartment, a condo or a loft, many city dwellers are putting emphasis on being near parks and green space, a trend one local group is hoping can help make Jersey City's parks the best that they can be.
The latest effort, dubbed City of Trees, is the brainchild of the Jersey City Parks Coalition. Founded in 2004 and made up of twenty neighborhood and open space groups, the Coalition spearheaded the 2011 Big Dig Project, which was undertaken in October that year and continued through 2014. The effort saw the group distribute and plant over 238,000 daffodil and tulip bulbs, one of the largest local beautification projects ever in Jersey City.
Following that success, the group knew exactly what issue to tackle next. The Jersey City Environmental Commission conducted a tree canopy study in 2015, which maps out the amount of shade created from the city's trees in parks and on sidewalks. It found that Jersey City only has a 17% tree canopy rate, with the highest coverage percentage being in Ward F thanks mostly to Liberty State Park.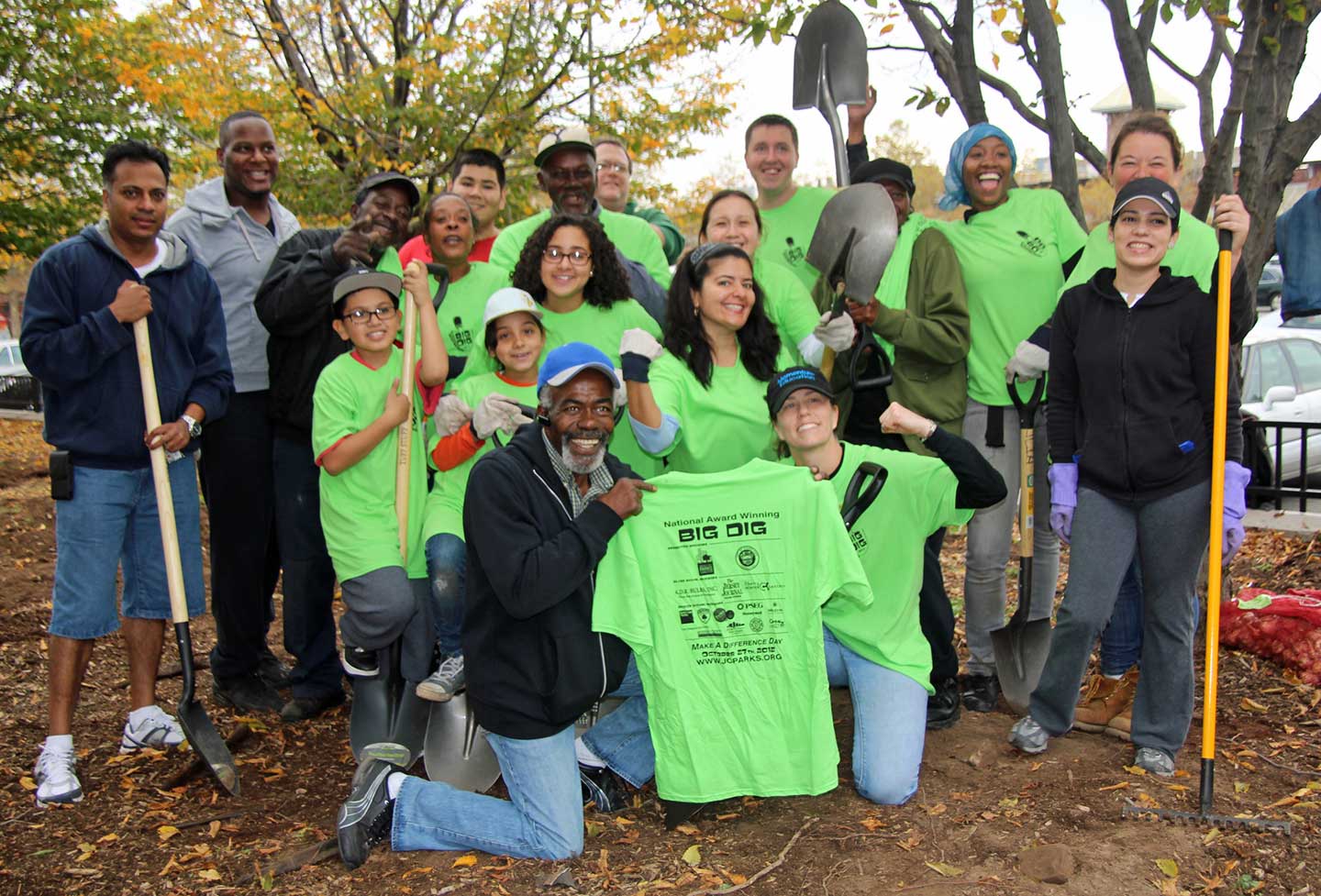 Based on percentages from other mid-sized cities, a municipality of Jersey City's size should have a tree canopy rate closer to 44%. To spearhead getting closer to that number, the Coalition launched Bigger Dig 2020 last year, which aspired to plant 2,020 trees citywide by that calendar year.
But in April this year, the coalition upped the ante, merging with JC Street Trees, renaming the project City of Trees and setting even loftier goals. They are now looking to plant 5,000 trees in the next five years. They are partnering with the city on the project as well as various companies including Goldman Sachs, who has donated $25,000 as their 2016 education and engagement sponsor.
For their part, the city has committed matching funds for each year of the five-year program. The first phase of the project, set to start in October, will focus on tree planting in public parks and open spaces. The city will also be planting street trees along commercial corridors and within residential neighborhoods.
Jersey City Parks Coalition President Laura Skolar says that the group's goal for 2016 is to promote tree education, as maintenance and caring for trees after they've been planted is a major challenge. To facilitate this, they have organized the Jersey City Tree Lovers Crew and hosted a free workshop back in May with the NJ Tree Foundation and Sustainable JC at Dickinson High School. They are also working closely with the JC Division of Parks and Forestry to develop policies & programs for maintenance and long term tree care. It's easy to plant trees the real challenge is keeping them healthy & alive.
City of Trees also recently organized a mural project with the Central Ave SID, Frogs Are Green and the JC Board of Ed along Central Avenue in the Heights. The murals, painted by over 100 Jersey City schoolchildren, depict visions of a more tree-filled Jersey City on storefronts. The group is also hosting several Art Events at the JC Reservoir and various locations during the summer months as part of the Goldman Sachs City of Trees student art project.
Skolar says that although the goal is 5,000 trees in 5 years, there is no specific planting goal this year. Instead, the first year will be dedicated to laying the foundation for a successful public-private partnership that will focus on long term planning and strategies to ensure the highest survival rates.
But like any successful initiative, City of Trees needs support from the community. The group is always looking to recruit volunteers and is currently seeking out people passionate about their tree program. If you'd like to get involved but lack a green thumb, they need volunteers to help with research, mapping, outreach, and event planning. Locals who think the program is a great idea but would prefer a more passive role can also show their support by donating to the group's cause.