A controversial development in the heart of Downtown Jersey City has been significantly scaled back following a long debate, and new ownership just broke ground on a revamped project that's significantly less dense than what was initially approved.
A compromise conclusion has been reached for the Bright and Varick development, which was first pitched by Rushman-Dillon all the way back in September 2013. That company had presented plans to the city for a five-story, 87-apartment "micro-unit" building consisting of apartments averaging 340 square feet. The project covered 100% of the land and had no on-site parking spaces included, which was allowed as-of-right under the Bright and Varick Redevelopment Plan that contained no density maximums or minimum parking requirements.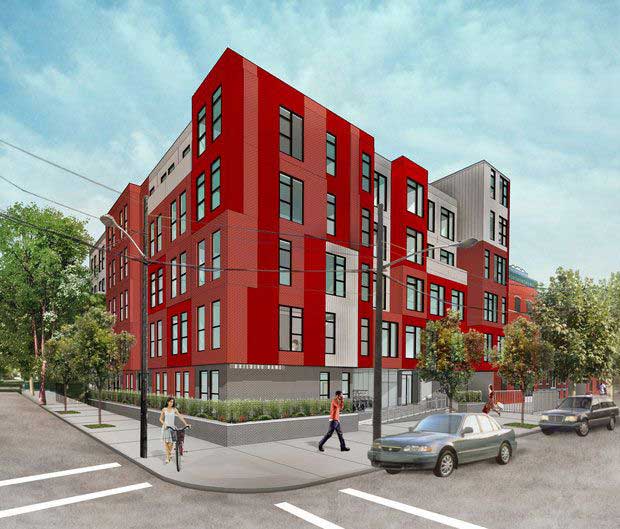 The planning board did reject the proposal in January 2014, but Rushman-Dillon sued and was eventually awarded approvals for the project following a long court battle. With the green light in place, the property was sold last year to Jersey City-based Point Capital Development, who promptly presented new plans for the site to the Van Vorst Park Association (VVPA).
The saga has ended in what Point Capital Principal and Founder John Fio Rito calls "a mutually beneficial compromise agreement." He told Jersey Digs that the company, the Fulop administration, the VVPA, the Jersey City Redevelopment Authority, and Jersey City's Housing, Economic Development & Commerce Department have all signed off on a plan to reduce the project's density by 55% to a total of 40 units, which will follow a more conventional configuration of one- and two-bedroom apartments and ditch the "micro" layout style.
The bulk and size of the new development are essentially unchanged, as the revamped version primarily consists of reconfiguring the interior space of the building. However, there are a few aesthetic changes to the façade materials, which will replace the fire engine red brick with a dark grey and white brick plus yellow wood and metal accents. The development is designed by Palermo Edwards Architecture.
Fio Rito noted that the new Bright and Varick development also adds 15 parking spaces and now includes a 1,100-square-foot ground floor retail component that the community requested. There's no tenant in place for the storefront yet, but Fio Rito said he is "willing to entertain anybody interested" and envisions a coffee or bagel shop type business.
Passersby might have noticed some work taking place at the site, which involves the removal of an asphalt cap and excavation of foundations leftover from previous structures that once stood on the land. Fio Rito said Point Capital has now obtained a proper construction permit and begun laying the new foundation at the property.
Related coverage: