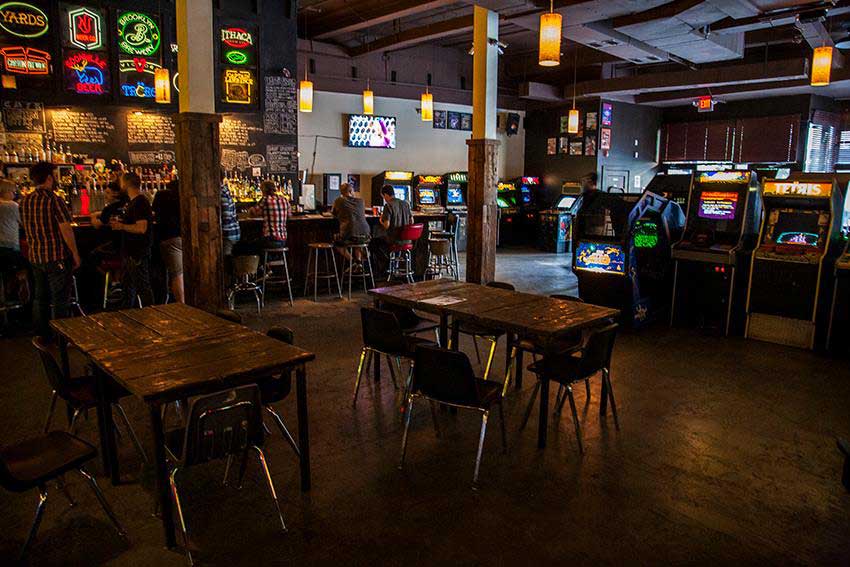 Barcade is planning to open a bar in Downtown Newark at 494 Broad Street, on the northeast corner of Bridge Street, in the East Ward of the city. The bar, which serves a wide variety of craft beers, sandwiches, and burgers, is known for the dozens of vintage arcade video games at each location.
The future space is located on the first floor of an office building near Washington Park, the Newark Broad Street Train Station, Audible.com's existing and upcoming workspaces, and the Rutgers Business School. It's currently occupied by the Martini 494 Bistro. The restaurant opened its doors in 2010 in the former 494 Cafe space, but is now slated to close on December 16th, according to an employee. This announcement comes after Martini Bistro and Bar, the restaurant's sister location in Millburn, closed earlier this year.
The Newark Barcade will be the second in the Garden State for the regional chain. The company's other New Jersey location along Newark Avenue in Downtown Jersey City opened its doors over five years ago. Barcade's original location was opened by four friends and two brothers over twelve years ago in the Williamsburg section of Brooklyn. Today, Barcade operates locations in Manhattan's East Village and Chelsea neighborhoods, Philadelphia, Pennsylvania's Fishtown neighborhood, and the downtown district of New Haven, Connecticut.
[gmap height="250px"]494 Broad St, Newark, NJ 07102[/gmap]
494 Broad St, Newark, NJ 07102