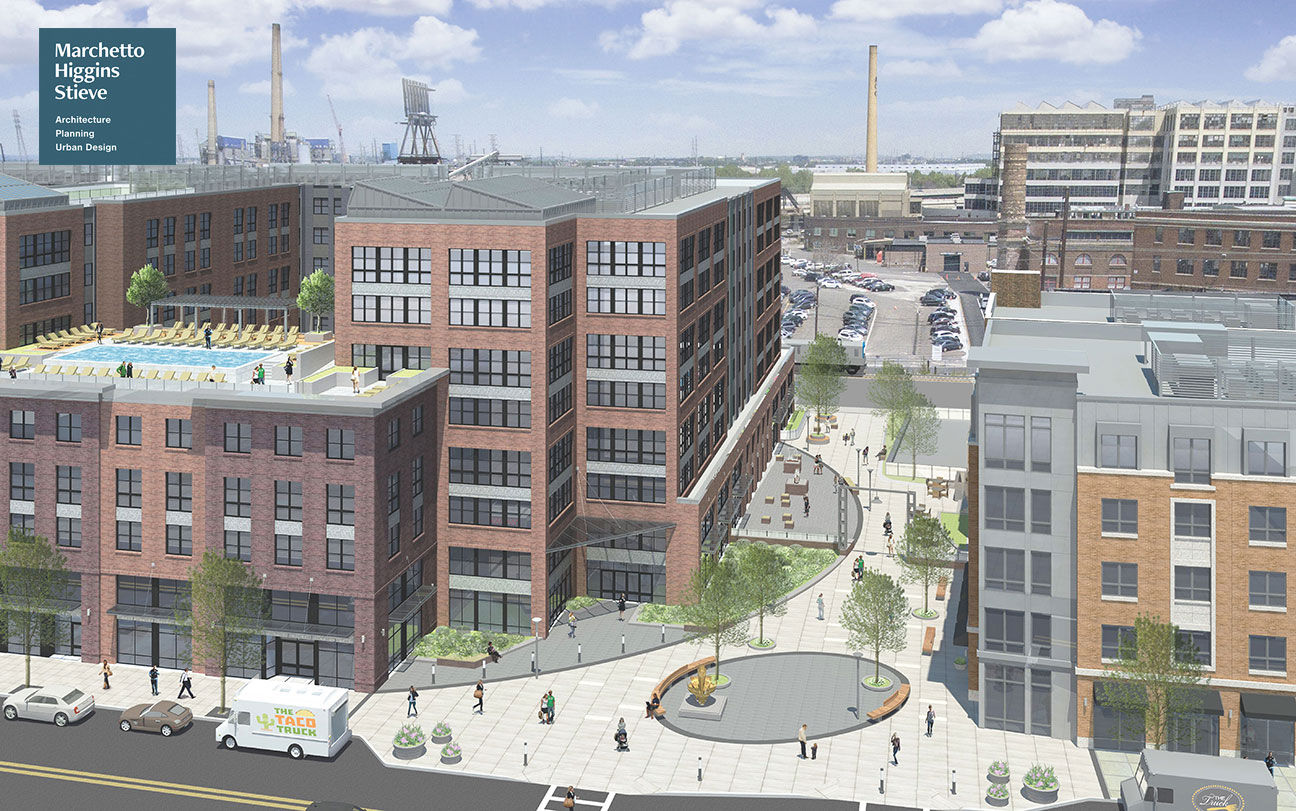 Jersey City's west side has another approved development in the works, one that will replace both a beloved local restaurant and a relic of the city's industrial age with new construction for the 21st century.
Last week, the city's Planning Board approved a proposal for the former Puccini's restaurant and a few surrounding lots. The Italian eatery, a favorite of politicos and locals alike, closed after 31 years in business back in 2015 after the property was sold to New York-based Amerestate Holdings.
The group, which purchased the property for $19.5 million, submitted applications to the city's Planning Board through Broadway West Holdings LLC and actually gained two different approvals at last Tuesday's meeting. First, the board approved the group's plan to combine six lots at 1072 and 1075 West Side Avenue into one large lot, which essentially consolidates Puccini's old building, a vacant former textile factory, one small apartment building and a parking lot.
The second application that gained approval spells out Amerestate's plans for the property. The group was granted permission to build 3 new mixed-use buildings at the site. After razing the site while preserving the one existing mixed-use building, the new structures will range from 3 to 8 stories and include 25,452 square feet of retail.
The new project called Avenir was designed by Marchetto Higgins Stieve Architects and will include 486 residential units and 384 parking spaces. The plans do require a few setback and parking variances, but they don't go above the currently allowable height restrictions for the area. The new apartments will technically be in the city's Marion section about a 10 to 15-minute walk the Journal Square PATH station, although the Port Authority's PATH tracks run directly behind the current buildings.
Local officials have been trying to get a new Marion PATH station for decades, so far to no avail. Local Freeholder Junior Maldonado has gotten behind the idea, but concrete plans or funding for such an undertaking has never been put in place.
Nearby Journal Square has seen a huge uptick in construction with projects like Kushner's Journal Squared and 3 Journal Square finishing up and a few others like 165 Academy Street gaining approval in the area.
Additionally, several developers have plans in the works for projects like 500 Summit Avenue and Baldwin Place, but the city's further west Marion section hasn't quite had a similar boom yet. But the Canco Lofts are established in the area, 25 Senate Place opened up late last year and Mana Contemporary continues to build out its' space, demonstrating that this section of the city may start to get hot soon.
[gmap height="250px"]1075 West Side Ave, Jersey City, NJ 07306[/gmap]
1075 West Side Ave, Jersey City, NJ 07306