Chances are, if you have driven or walked around a community in Central New Jersey, you have seen the work of George Zienowicz. The Trenton business owner, who has been working in the capital city for almost 30 years, is responsible for signs all over the region, from 'welcome' signs in municipalities like Montgomery Township and Princeton to signs for his own East Canal Street facility and other local businesses.
"You've heard of dinosaurs? Well I'm a sign-osaur," according to Zienowicz, who explained to Jersey Digs how his business gives him a unique perspective on new developments and other changes in the city. "The sign shop sees all and knows all."
Zienowicz Signs was just one of dozens of venues throughout Trenton that opened their doors to the public as part of the city's annual Art All Day event, which was held on Saturday, November 4.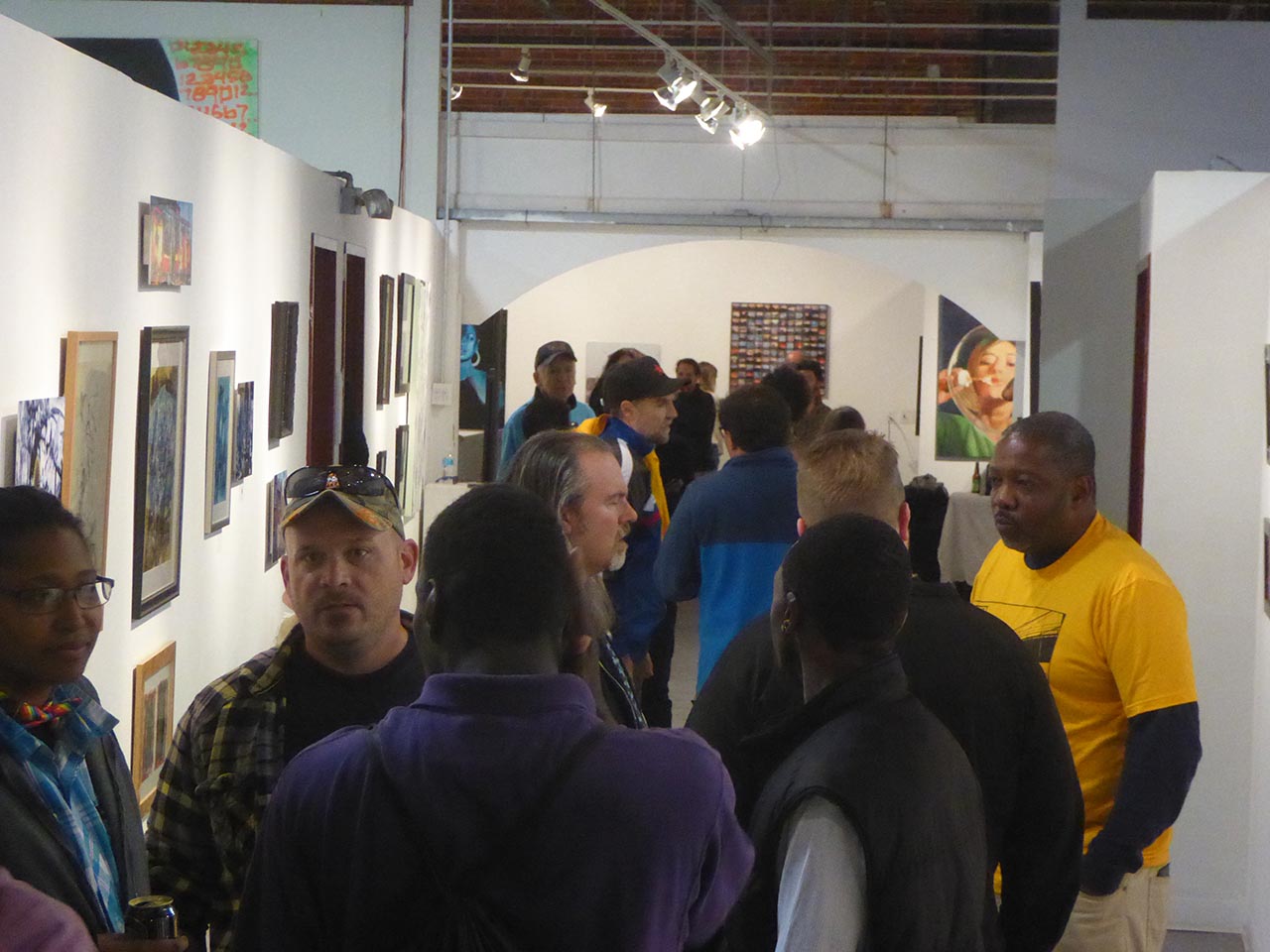 Hundreds of Trenton residents and visitors explored the community of over 100 artists in New Jersey by taking walking and trolley tours from the Artworks visual arts center to neighborhoods such as Mill Hill, Old Trenton, and Chambersburg.
"Trenton is an art city," said event director Iana Dikidjieva, explaining that Art All Day "has been growing by leaps and bounds every year."
Some artists opened their studios to attendees, while others gathered at various locations throughout the city like the Trenton Area Soup Kitchen, the New Jersey State Museum, the Broad Street Bank Building, the Passage Theatre at the Mill Hill Playhouse, and the First Trenton National Bank Building.
Damion Parran, Managing Director of the Passage Theatre, told Jersey Digs that "Art All Day is a wonderful opportunity for folks from across New Jersey to get a taste of the creative capital that exists here in Trenton."
Across town, one participating artist at the Trenton Area Soup Kitchen was George Barnes, a member of the Trenton Community A-TEAM, who relocated to the city in 2015 from Bristol, Virginia. Not only does Barnes draw historical figures freehand, he is also a blues singer, a sculptor of bracelets and rings, and a painter of murals around the city for local businesses during the holiday season.
"I've been doing artwork ever since I was in the seventh grade in Atlanta, Georgia," said Barnes, who has been participating in Art All Day for the last two years and plans to stay involved in Trenton's arts community.
Another artist in the city, Bruce Lindsay, opened his entire facility on Allen Street, known as Integral Sculpture Works, to the public.
"I was attracted to Trenton because of the availability of great old affordable buildings and the vibrant, mostly underground, arts scene here," said Lindsay, who feels that Art All Day "is an opportunity for artists to show off their individual works, but more importantly, it is an opportunity for us to do this event as a community and to demonstrate to the local residents and to other people the great things happening here that are related to the arts."
Other sites in Trenton that were open as part of Art All Day included the Orchid House, Galeria Casa Cultura, the Six Oh Nine Project, the two-story studio of Ken Alexander on Mercer Street, the Trenton Free Public Library, and the Roebling Lofts development.
Art All Day's counterpart, Art All Night, will be held in June 2018 at the historic Roebling Wire Works along South Clinton Avenue.