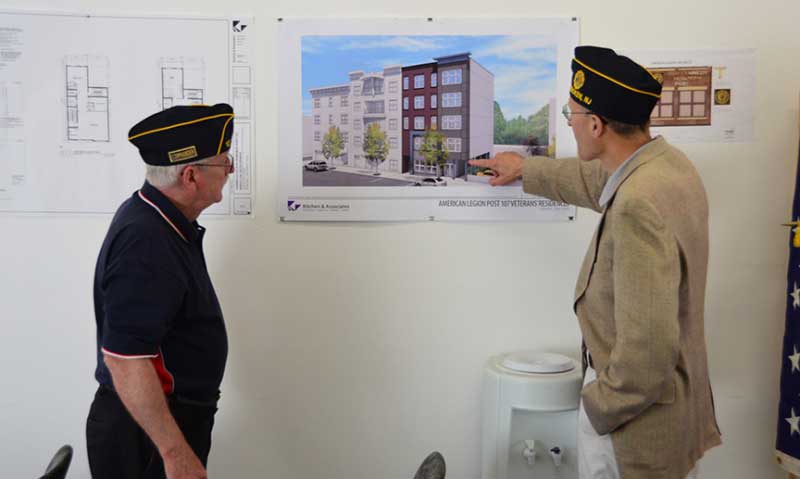 According to a legal notice published in December by the Hudson County Planning Board, Hoboken World War Vets Holding Corp. is planning to demolish the Tom Kennedy American Legion Post 107 at 308 Second Street, between Willow Avenue and Clinton Street, in the city's Ward 6. The building is slated to be replaced with a new mixed-use building with American Legion space below six residential units. According to the City of Hoboken, the project is being developed in conjunction with Monarch Housing of Cranford, Union County and the Hoboken Shelter, and the housing space will be for veterans experiencing homelessness. A public meeting regarding the plans was held back in February, and the board heard the proposal on December 19th.
According to the American Legion, the Hoboken post, which is the 'the last veterans service organization in the city' was damaged during Superstorm Sandy, leaving part of the building under six feet of water and causing files and memorabilia from the post to be destroyed. In an effort to prevent future damage, the post's operations will be located on the second floor of the new building. The project will include 13 parking spaces, an outdoor patio, room for bicycle storage, and a meeting room, and the units will be a mixture of 832 square-foot one bedroom apartments and 498 square-foot studio apartments. The six apartments "will provide permanent housing for homeless veterans who will be charged a maximum of 30 percent of their income for rent." Hoboken's Zoning Board of Adjustment unanimously approved the project in March.
A few blocks away at 72 Madison Street, between First Street and Observer Highway, a new 42.9-feet-high five-story building with four two-bedroom and three-bedroom residential units will be built. The project was approved by the Hoboken Zoning Board of Adjustment on October 18th. Archi-Tap Designs of Harrington Park, Bergen County is the development architect, according to city records. A multifamily house was previously located at the property, but it, along with a neighboring home, was destroyed in a four-alarm fire in 2013. A new five-story residential building opened at the site of the neighboring property in 2015.