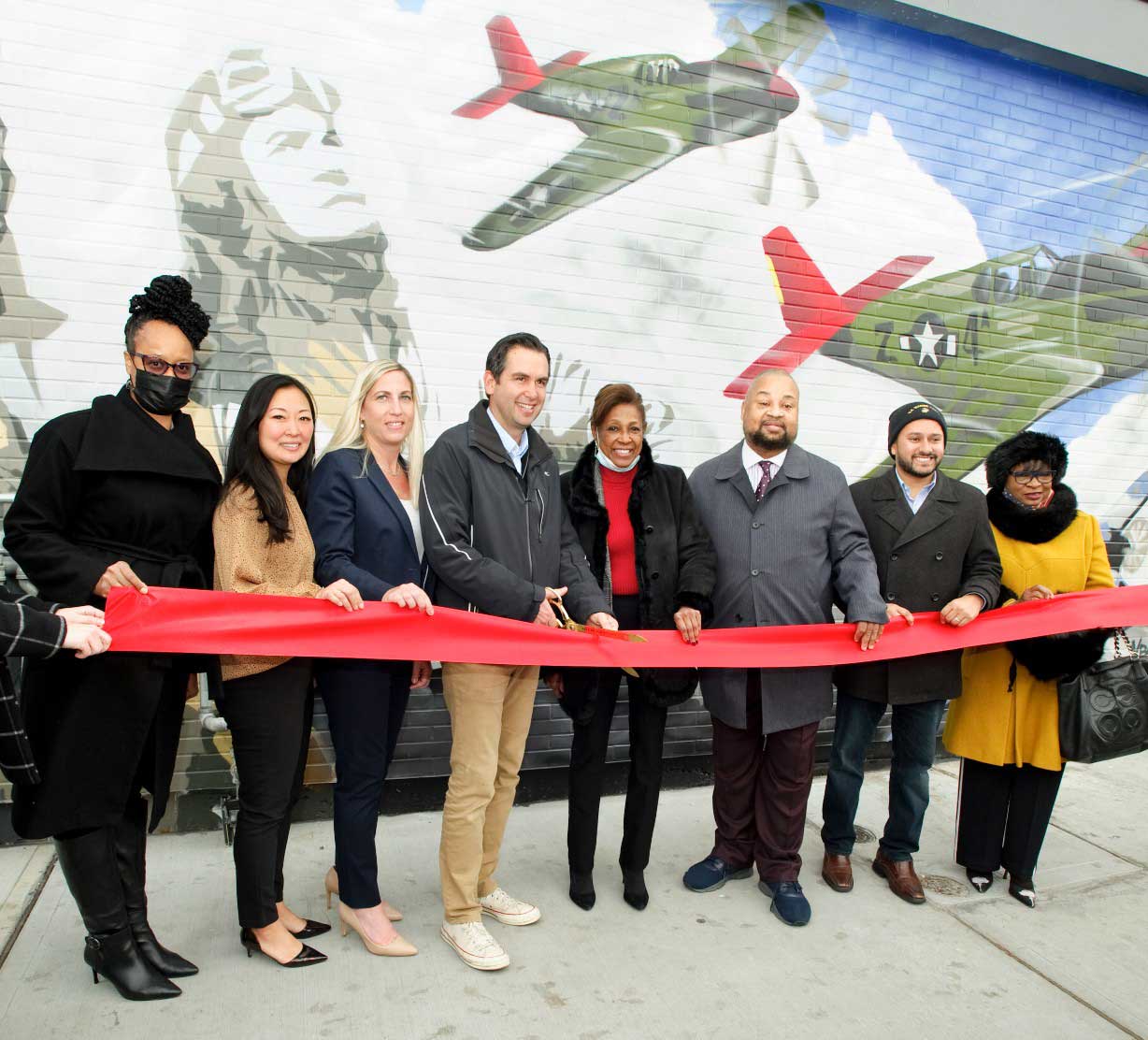 TANTUM Real Estate, local stakeholders, and elected officials recently attended the ribbon-cutting event for the affordable veterans housing community in the Greenville neighborhood of Jersey City. The new community will provide quality, affordable housing, along with onsite supportive services for veterans and at-risk populations.
Located at 526 Ocean Avenue, the property contains 20 affordable apartments, including units reserved for homeless veterans of the U.S. armed forces. The building also features 1,500 square feet of ground-floor commercial space, which will be occupied by Collaborative Support Programs of New Jersey (CSPNJ). CSPNJ is a peer-led not-for-profit agency that provides services related to food access, employment, mental health assistance, and peer support groups. The property will be managed by Community Enterprise Corporation (CEC), the housing affiliate of CSPNJ.
In addition to the building, there is a new, street-level mural along Ocean Avenue called Red Tales. The mural was created by artist Vincent Ballentine following concept collaboration between the Jersey City Mural Arts Program and TANTUM. The mural honors the Tuskegee Airmen and features two pilots and WWII aircraft — an homage to the heroic Black pilots who served the United States during the war.
The project's financing was arranged by TANTUM. Funding was acquired from multiple sources, including Jersey City's Affordable Housing Trust Fund (AHTF) in addition to capital from The HOME Investment Partnerships Program (HOME), provided through both the municipality and Hudson County.
"I'm overwhelmed and humbled to finally open our doors to residents, including many that have bravely served our country. Today is a culmination of a years-long endeavor for Tantum, and a victory for our broader mission to foster a greater quality of life in communities throughout the region," said Debra Tantleff, founding Principal of Tantum. "The redevelopment of this property through public-private partnership provides a roadmap for how governments and developers can collaborate to execute a new class of boutique affordable housing initiatives that address a significant societal need."
"As the sibling of two veterans and a long-time housing advocate in the region, today's ribbon-cutting represents a powerful milestone for me both personally and professionally," said Carol Sainthilaire, CEO of CEC. "The early success of this property sends a clear message: ending homelessness in Hudson County is an achievable goal, and it starts with access to affordable housing."