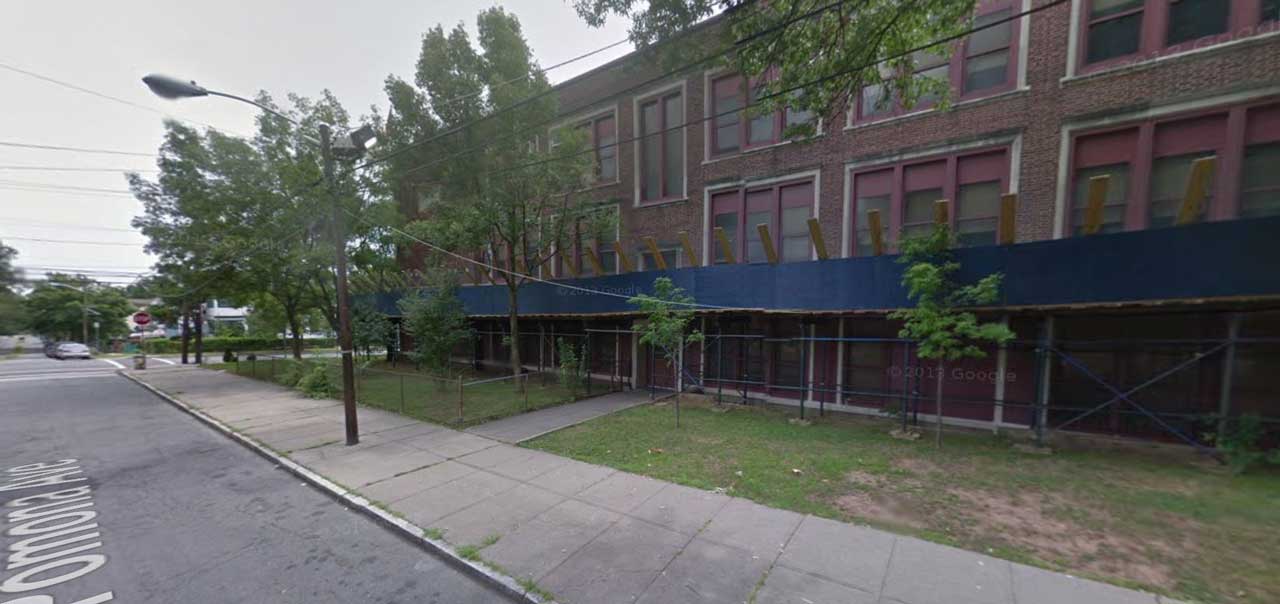 A proposal to convert a vacant Newark elementary school into apartments that we first told you about back in February could soon move forward.
The Maple Avenue School has stood in the Weequahic neighborhood of the city's South Ward for nearly a century, but for the last few years, the 62,010-square-foot building has sat empty. Despite widespread community opposition and an enrollment of over 500 students, the decaying structure at 33-47 Maple Avenue was shuttered by Newark Public Schools. It later became one of 12 schools in the city to be listed for sale by the Newark Housing Authority and was sold in December for $1.2 million to the Downtown-based Hanini Group's 33 Maple, LLC affiliate.
Now, more information has been revealed about Hanini's plans for the former neighborhood school. Not only is the existing three-story building expected to be renovated and adaptively reused, but a 3,300-square-foot expansion is also planned "within the existing building footprint," according to a legal notice from City Hall. The finished development would include 57 units with 27 parking spaces provided on the premises.
The developer, which also acquired other former schools in Newark, is seeking Preliminary and Final Major Site Plan approval from the Newark Zoning Board of Adjustment (ZBA) in order to move forward with this project. Variances such as excessive front yard setback, insufficient parking, and insufficient parking lot lighting are also being sought. The board is scheduled to conduct a public hearing on the matter during its meeting on Thursday, June 14 at 7:00 p.m. at City Hall.
The former Maple Avenue School is situated within a residential neighborhood that largely consists of single-family homes near Newark Beth Israel Medical Center. In April, the Newark Municipal Council authorized the Newark Central Planning Board to investigate whether the property is an area in need of redevelopment.