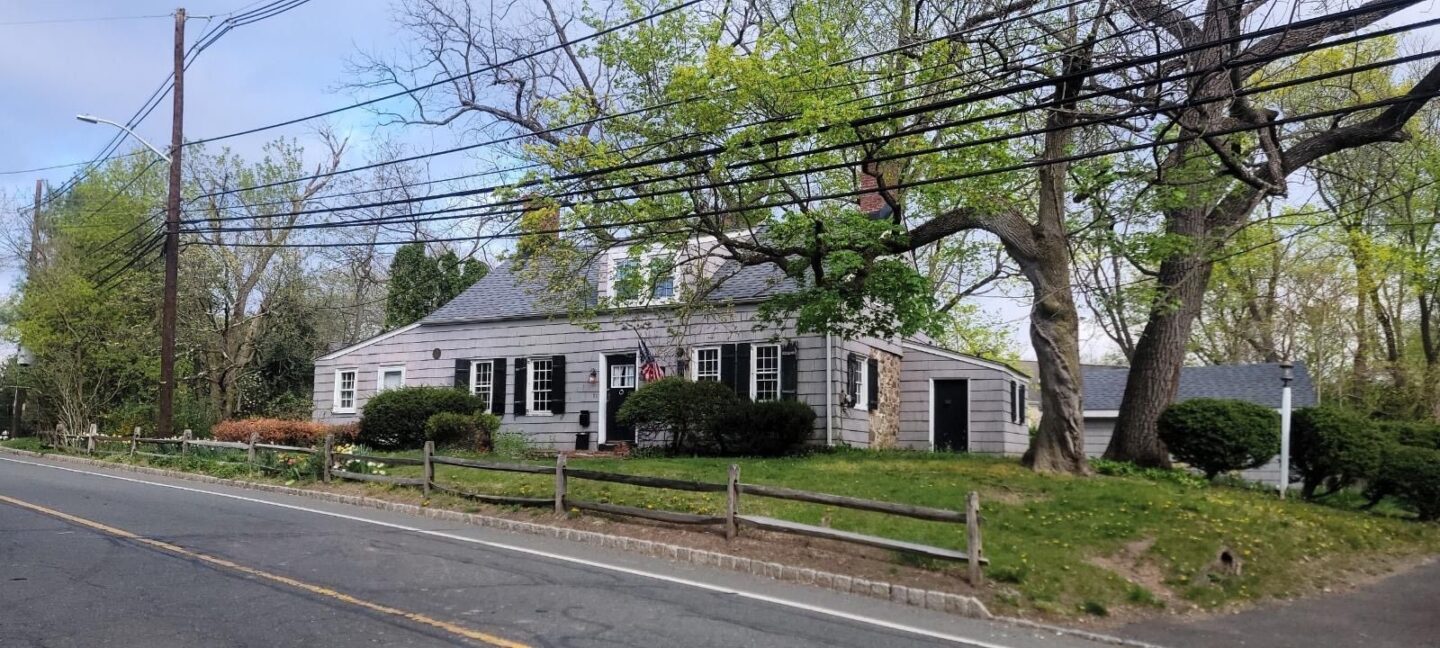 Heather Shelby and her family, who lived at 91 Woodland Road in Madison since 1976, made the difficult decision to sell the home after her mother was diagnosed with dementia.
"My mother first forgot who I was five years ago," said Heather Shelby. "I lost any lucid time she had left during the pandemic when her care facility went into complete isolation."
It was a tumultuous time, worsened by the fact that their home — known as the Wingate House — was historic, built in the 18th century. As the eighth family that had ever lived there, the Shelbys not only believed they were caretakers of a local landmark, but some of their best memories of their mother were bound to the home. They sought a buyer that would promise to preserve the Colonial-era home where some believe General George Washington marched by en route to ending the war in Yorktown, Virginia.
"Mentally she's not here. But I always thought as long as the house is there a piece of her would always be there," Shelby said.
So the Shelby family sold the home this past April to Steve McCann, owner of Historic Homes by McCann, a development company that specializes in restoration. All seemed to go according to plan. However, Madison's town historian Scott Spelker informed her family weeks ago that the new owner had applied for a demolition permit. Needless to say, the Shelby family felt betrayed.
"We left antiques with them, including an antique cradle my mom used to rock us in because they had just had a baby," Shelby said. "We left a doll that my mom had handmade."
Madison has a small collection of surviving 18th-century homes. One of them — the Sayre House at 31 Ridgedale Avenue — is individually listed on the National Register. Five others on Ridgedale Ave, have landmark protection as part of the Bottle Hill Historic District.
The Wingate Home was never landmarked, although the family had considered it. "We talked about that as a family and we were concerned about how much time it would take," Shelby said. "We had to put time and money toward my mom's care. If we weren't facing what we were facing, we would have."
Shelby also said that, because the house was in need of repairs, she feared a landmark designation could scare off potential suitors who might not want to deal with a preservation commission's oversight.
"It didn't seem like the best way to get the house sold," Shelby said.
A handful of homes in Morris County share a common history as places where Revolutionary War soldiers and generals were quartered. New Jersey was a major battleground because it was located between the two strongholds, Philadelphia and New York City. At the Sayre House, there is evidence that General Anthony Wayne was billeted there. Most famous is Jockey Hollow in Morristown where General George Washington overwintered. The Shelbys believe the Wingate House could have been used as an inoculation clinic based on a painting that was commissioned by the home's first owner. Though that claim hasn't been substantiated yet.
Without a local, state, or national landmark designation, there is no legal maneuver that can prevent the demolition. The town historian Spelker, who organized an online petition, has been trying to persuade McCann, even inviting him to a public forum.
"I was just trying to appeal to him that he could go down in history as the guy who saved a Revolutionary War house in Madison," Spelker said. "I want to put the word out there for everyone to know. Because with enough groundswell of support maybe, just maybe, the builder will decide not to tear it down."
The news of this proposed demolition comes in the wake of the loss of an 18th-century home in Maplewood, Jersey Digs reported. Spelker, who is a realtor, said that tearing down a historic home on a large acreage for the purpose of building a subdivision is common. But tearing down one a small lot and replacing it with a newly built one is a fairly new phenomenon in real estate.
"It doesn't usually make financial sense to tear them down," Spelker said.
8/26/23 Update:
Since publication, Mayor Richard Conley published a statement claiming that the township worked with McCann to save the home, but said township's construction official "determined the house was stucturally unsound and unsafe."
"The poor structural integrity also made relocating the house to another site impossible," Conley said.
McCann told the Madison Eagle that after two different inspections, it was determined that the historic building didn't comply with the current building code, meaning the renovations "would be so extensive that any historical components of the house would be lost."