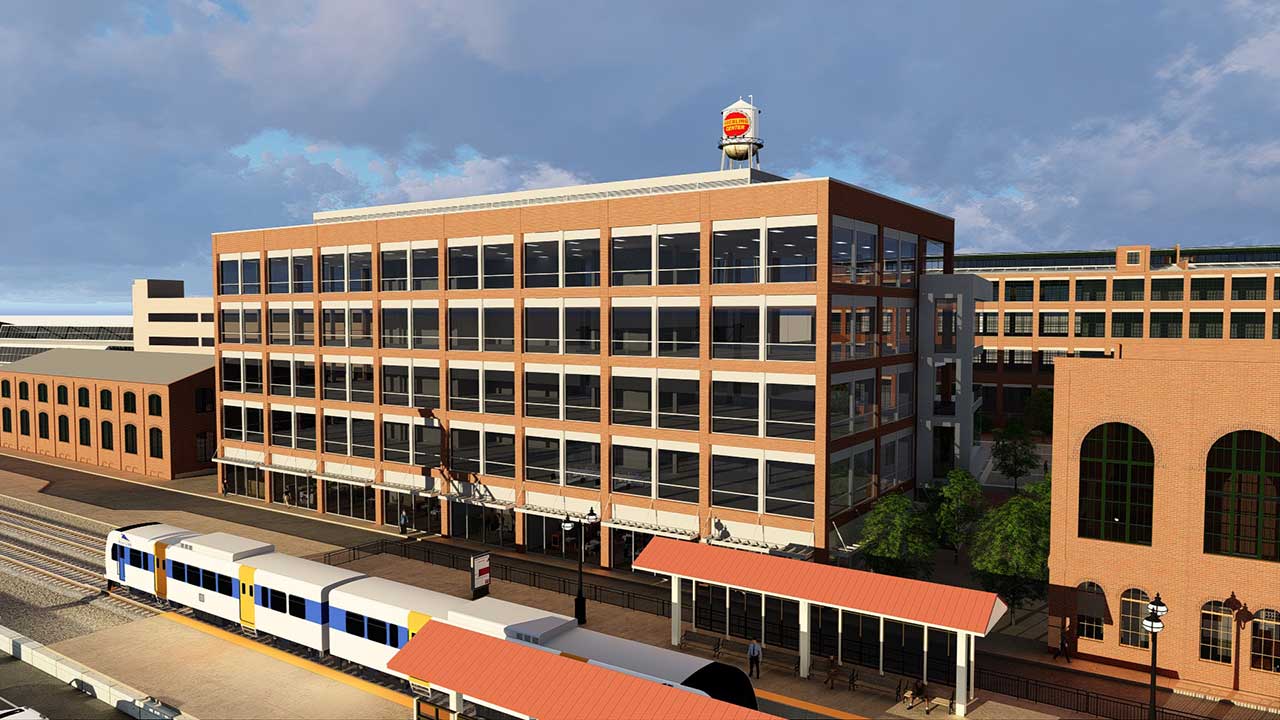 An increasing number of New Jersey developers are finding new uses for vacant or abandoned historic buildings in urban areas, including in the state capital.
"Jersey City and Hoboken, and now Newark, have experienced really incredible redevelopment, and I think that Trenton is next," explained longtime city resident John Hatch, a principal of HHG Development Associates, LLC and a partner at Clarke Caton Hintz.
Trenton, located between New York and Philadelphia, just across the Delaware River from Bucks County, Pennsylvania, was once known internationally for being an industrial powerhouse. In fact, when crossing into the city by rail or car, visitors are still greeted with a sign reading 'Trenton Makes, The World Takes'. One of the largest manufacturing facilities and employers in the city was the John A. Roebling's Sons Company complex at 71 Clark Street in the city's Chambersburg neighborhood, which, from 1917 until the mid-20th century, produced the wire rope that was used for a variety of purposes, from the Golden Gate and George Washington Bridges to Charles Lindbergh's Spirit of St. Louis plane to the original Slinky toy.
The John A. Roebling's Sons Company was an institution across the Capital Region, and, in addition to the Trenton complex that is becoming Roebling Center, the company also was responsible for developing the community of Roebling, New Jersey in nearby Florence Township, a company town built around its 200-acre manufacturing facility. Although most the facilities there are no longer standing, the homes of the village remain as does the plant's main gate, which today is home to the Roebling Museum.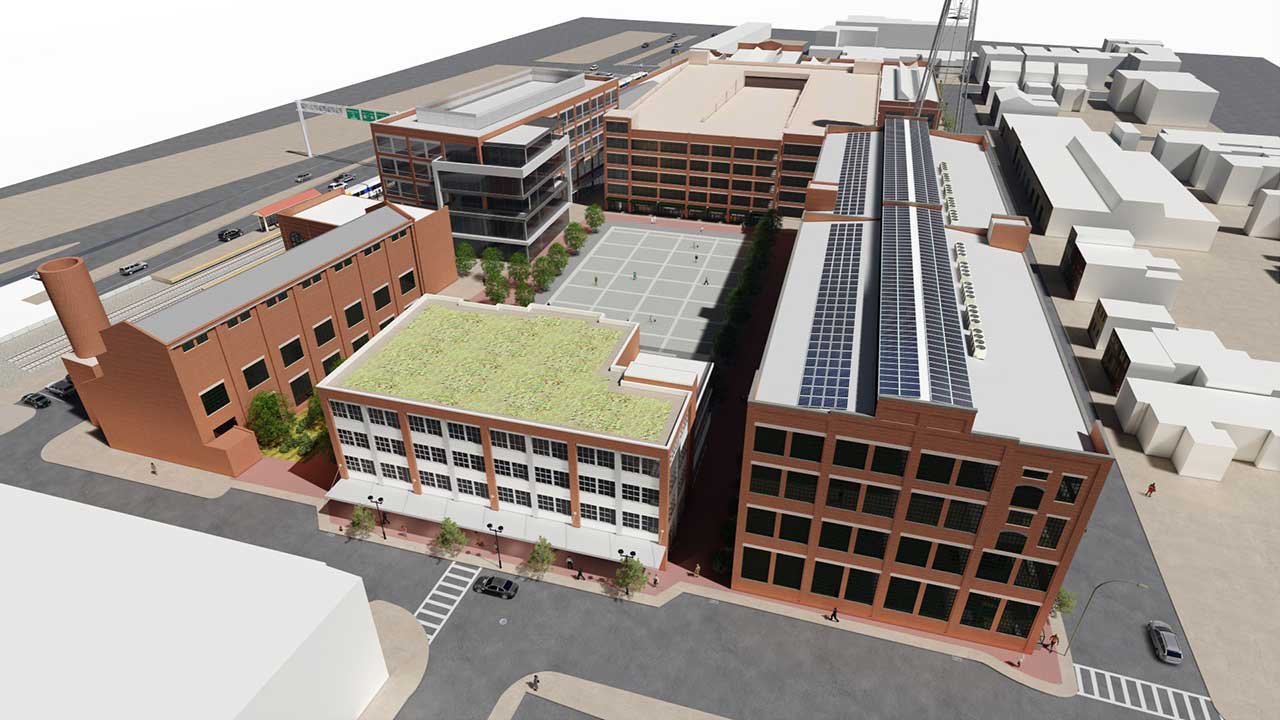 Now, HHG is in the process of converting most of the Trenton complex into the 7.1 acre Roebling Center, which, when completed, will include Roebling Lofts, a 138-unit residential development in the former Clark Street Rope Shop, 100,000 square feet of office space in the former Building 114, nearly 9,000 square feet of office space and a restaurant and pub in the former Building 110, 29 loft apartments and a restaurant in the former boiler house and electric generating plant, an outdoor public plaza called 'The Railyard' with live events and movie screenings, and an 888-car parking garage with retail space. A new five-story building, Building 103, will also be constructed, and will include office space, restaurants, and retail space, along with a new four-story building, Building 102, which will include 23 loft apartments, retail space, and restaurants.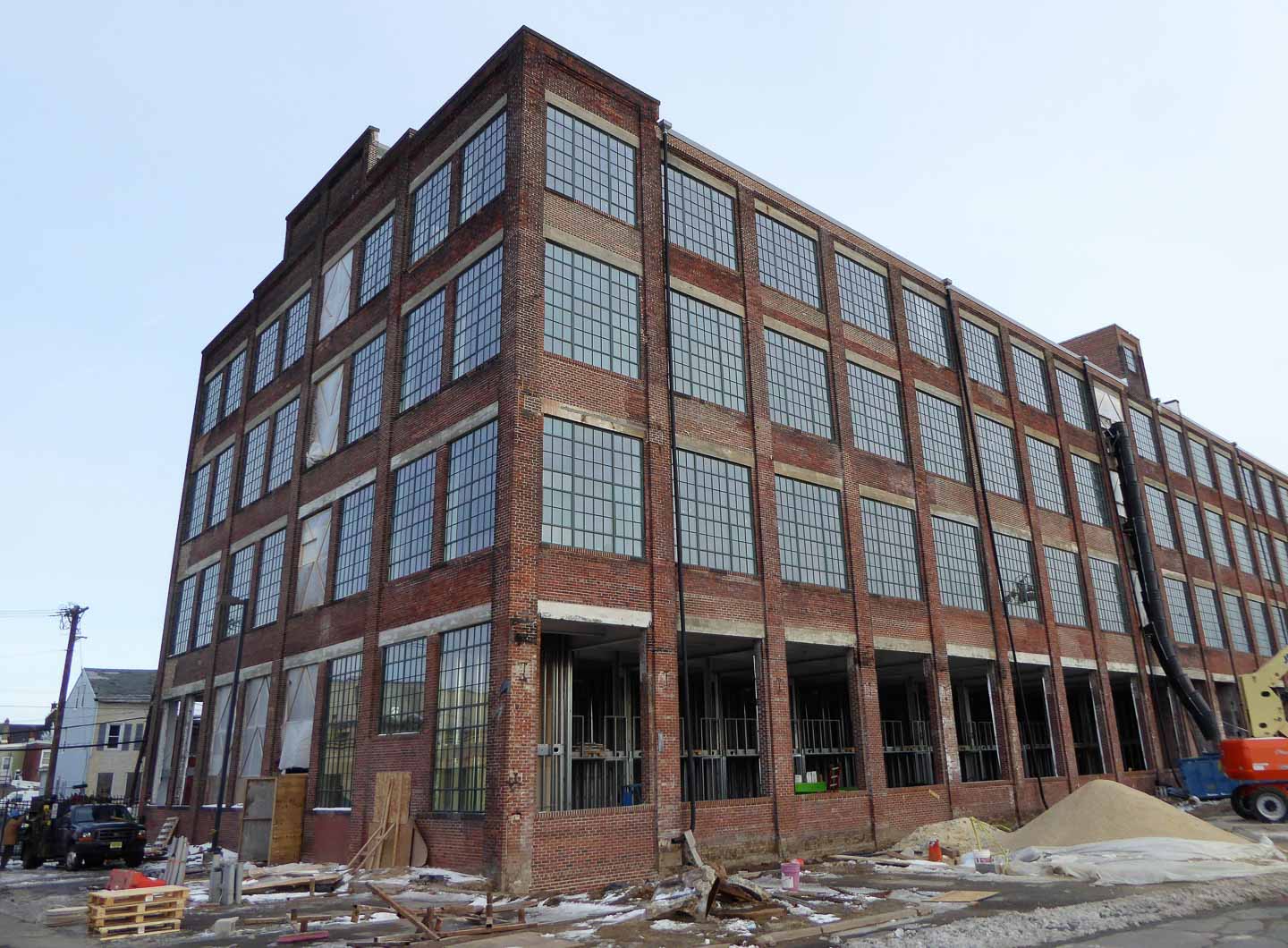 Although most of the stages are several years away from completion, construction is underway at Roebling Lofts, which will be finished later this year. Inside, there will be elevator service to all floors, a coffee bar in the lobby, a bicycle storage room, a business room, and an exercise room. Plus, the fourth floor will feature the 'Fatigue Machine Lounge' for residents, which will be built around a preserved wire rope testing machine.
All of the units will contain one or two bedrooms ranging in size from 759 square feet to 1,553 square feet. The five types of units, Manhattan, Brooklyn, Lindbergh, Golden Gate, and Wright Bros., are all named for projects that the Roebling company was involved in. The units feature an entry level and a mezzanine level, connected by a Pennsylvania-made spiral staircase, and rents range from $1,076 to $2,150 per month.
"They're unique in the Central New Jersey area so it's really going to set the standard for Trenton as a place with really cool apartments and amazing mixed-use redevelopment," said Hatch, who added that the units are currently attracting interest from both Trenton residents and people from outside the area.
The complex is located less than a half-mile from the Trenton Transit Center (TTC), which features NJ Transit rail service to Newark and New York, SEPTA rail service to Center City Philadelphia, Amtrak trains, and local bus service. Plus, the Hamilton Avenue Station on the River Line light rail, which provides service for just $1.60 to the TTC, Camden, and communities in between, is located adjacent to Roebling Center.
"There's great highway access here if you actually want to drive, but because the train connections are so great, you don't really need a car," Hatch said, adding that the River Line station is "one of the reasons why we really like the site."
There are also plans in conjunction with the City of Trenton and Mercer County Community College for a bikeshare program in the area, according to Hatch.
The complex is located within Trenton's Chambersburg neighborhood, which has a large Guatemalan community and dozens of new businesses.
"One of the attractive things for new residents is the cool stores and the cool restaurants," Hatch explained, adding that "all of them are going to benefit by having these new residents."
There are a variety of attractions within walking distance of the Roebling Center site, including and the Sun National Bank Center arena, the Trenton Thunder baseball team's stadium, Trenton Social, and the recently opened Stockton 51 gallery of the Trenton Community A-TEAM. Plus, just across the street from the complex is the Roebling Market plaza, which contains a Food Bazaar supermarket, several stores, and a former Roebling Wire Works building that is now home to the Trenton Circus Squad and events like Art All Night and the Trenton Punk Rock Flea Market.
"What this project is going to do and what it's already starting to do is to spin off new development and new interest in Trenton, so I think in ten years, we're going to see a bunch of other projects," said Hatch, who feels that Roebling Center will lead to a transformation of the surrounding blocks into the 'Wire Rope District'.