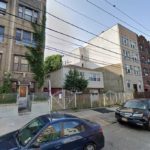 The Jersey City Zoning Board of Adjustment is scheduled to hear plans this week to bring a five-story building with a roof deck to 80-82 Romaine Avenue.
A developer is planning 297 units, office space, and more for a property in Journal Square.
A 161-unit development could rise in Jersey City along the Hoboken border.
In part six of Jersey Digs' ongoing interview series with Jersey City's council members, Ward C Councilman Rich Boggiano addresses the next wave of development coming to Journal Square.