Three companies are looking to derail a 92-unit mixed-use project, alleging the public was insufficiently notified about the proposal and claiming a virtual planning board meeting on the application violated the state's Sunshine Law.
More than two years after the Newark Municipal Council authorized the sale of several Central Ward properties for $200,000, the new owner is proposing a nine-story development with 92 residential units.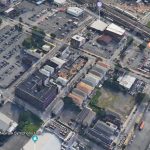 A new plan is one of several development proposals for the area just south of Newark's Government Center.