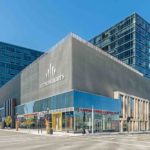 Hudson Lights in Fort Lee, New Jersey, was recently sold for $116.5 million.
A lifestyle-oriented rental community in Fort Lee offers residents a high-end experience right in the middle of a plethora of entertainment options.
When SJP Properties first broke ground on The Modern, they bet big on the project's ability to help transform the area. As it turns out, that bet paid off. Yesterday in a press release, SJP announces the start of construction on the project's second tower.