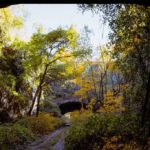 The funding will go towards a full evaluation of the abandoned rail corridor, which activists hope to turn into a mile-long greenway of open space that would connect several neighborhoods.
His one-man journey is now the focus of this sixth book, "Walking the Newark Branch," which recently debuted alongside a documentary.
A group that has long promoted a plan to convert an abandoned rail line into a shared-use nature trail just gained membership into a notable non-profit started by the co-founder of Manhattan's High Line.