If you're looking for a rental property in Jersey City with meticulous attention to detail, check out this gorgeous five-bedroom, 4.5-half bath home by Van Vorst Park.
While the construction clatter of new high-rises is reshaping Jersey City's skyline, that revitalization is being complemented by other developers like Dixon Leasing, who have focused on smaller properties in the city's older neighborhoods.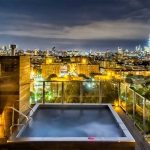 Remember that $20k/month rental in the Heights? Dixon Leasing has a new post on their blog documenting the renovation process of turning a 134-year old row house into a high-tech modern oasis.