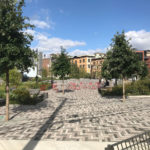 The city recently acquired about an acre of land next to an existing greenspace and has awarded a contract to add a temporary playground, basketball courts, and community gardens at the space.
A legal settlement permitting the city to purchase an acre of land in exchange for allowing greater development density at properties owned by Academy Bus will be debated, along with an $8.1 million bond ordinance that would fund the deal.
The city's mayor isn't keen on a plan that would bring residences, retail, a park expansion, and a new middle school to Hoboken's southwest corner.