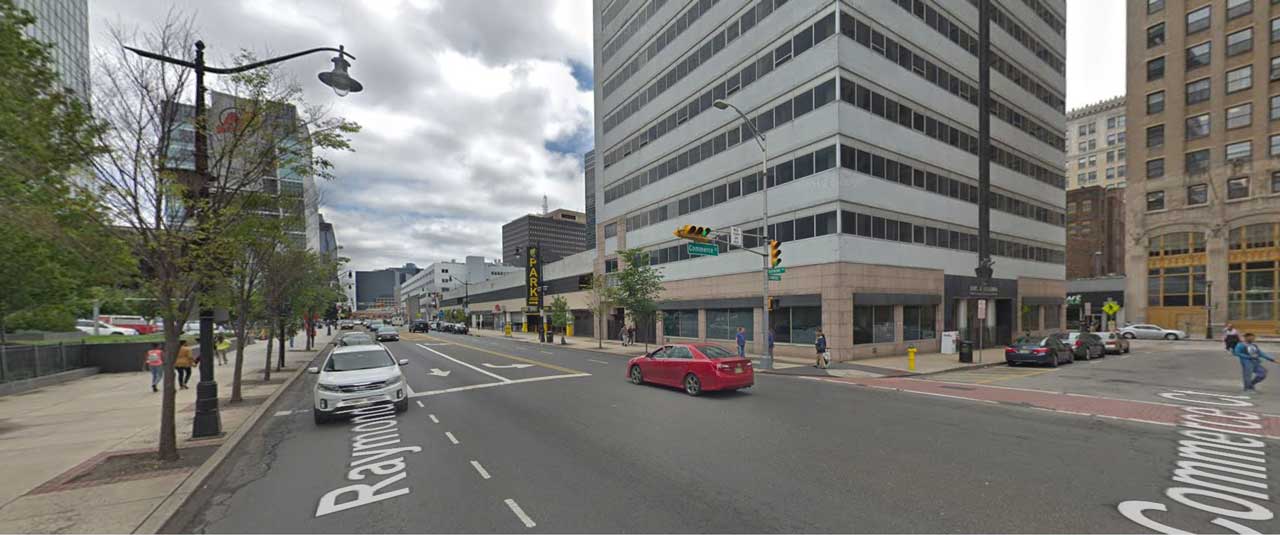 Back in 2015, it was revealed that a developer was planning to turn an empty building in Downtown Newark into the neighborhood's latest hotel. HARI Newark Urban Renewal, LLC sought to turn what once was an office building at 1136-1166 Raymond Boulevard into a Homewood Suites by Hilton Hotel. The 12-story structure, located at the corner of Commerce Court near PSEG Plaza, was once occupied by Catholic Charities, The Eric J. Feldman Child & Family Development Center, and the Mount Carmel Guild Preschool. It is also known as 10 Commerce Court.
Three years later, the building continues to sit vacant, even as other buildings in the neighborhood are undergoing adaptive reuse projects. However, a recent application by the same Edison-based developer to the Newark Central Planning Board indicates that the proposal to turn the building into a hotel is active once again.
HARI Newark Urban Renewal was initially scheduled to go before the board on November 5 as part of the firm's request for Preliminary and Final Site Plan approval in connection with the project. A legal notice shows that 153 guest rooms are now planned, along with a business center, meeting rooms, a fitness center, and 1,500-square-foot restaurant on the ground floor. The parking garage that currently sits adjacent to the building would include spaces for hotel guests and undergo "access improvements."
The only other Homewood Suites locations in the vicinity are in East Rutherford, Cranford, and Edgewater. Initially, the proposal for the planned Newark location called for the building to include 110 hotel rooms, according to city records.
The possible revitalization of the plans for this property comes amid an increase in the number of chain hotels in Newark. A Hotel Indigo location opened in 2014 in the former National State Bank building on Broad Street and a TRYP by Wyndham hotel opened earlier this year in the old Carlton Hotel building on East Park Street, while construction is expected to finish early next year on a Home2 Suites by Hilton near Newark Liberty International Airport. There have also been plans in the works for the Pestana Hotel in the city's Ironbound neighborhood and for a 26-story hotel opposite Military Park on Park Place.