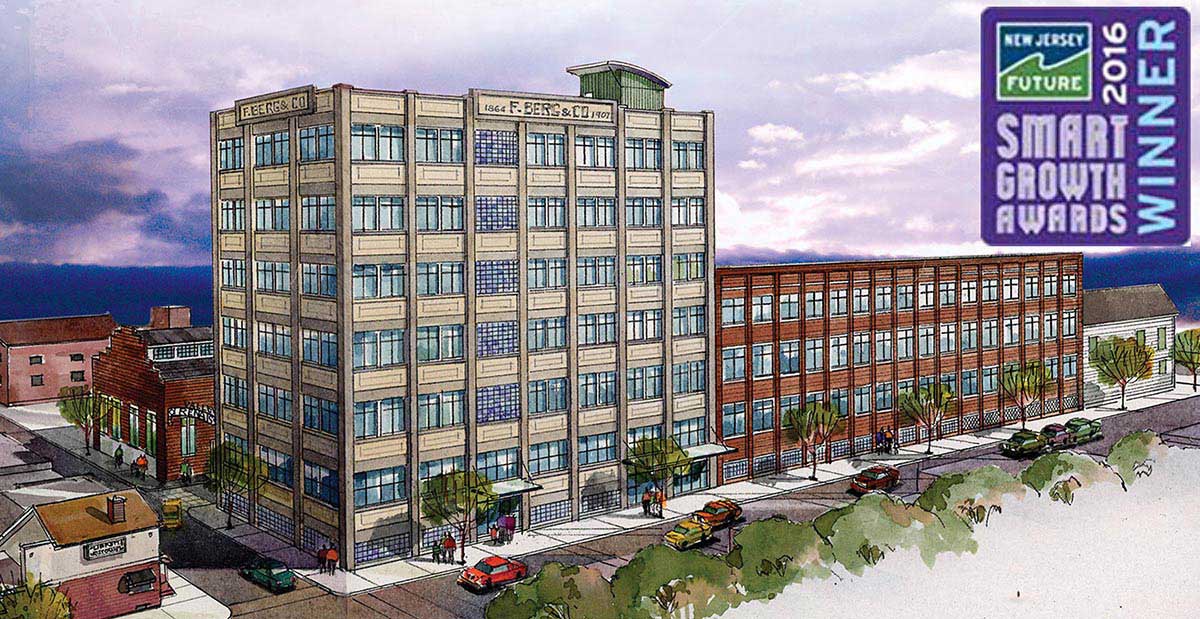 Orange has seen a large decline in population in recent years, but as new complexes open, that trend could soon be reversed. Earlier this year, a new 113-unit apartment building called Linc 32 opened adjacent to the main Orange Train Station at Tony Galento Plaza, as did a 24-unit condominium building called Linc 52 next door. A parking lot previously was located at the site.
Just across the tracks, two apartment buildings at 50 and 55 South Essex Avenue, one of which also contains a preschool, were completed last year at the site of a flooring supply center. The buildings were developed by L+M Development Partners, which is also responsible for the Hahne & Company project in Newark.
In addition, revitalization is also starting in the area surrounding the Highland Avenue Train Station known as the Valley Arts District. The new Hat City Lofts are in the process of being developed in the former F. Berg & Company Hat Factory buildings at 475 South Jefferson Street, at the corner of Nassau Street. The hat company was established in 1864 at the site, and Berg hats were sold in men's shops across the country. Now, the buildings, owned by HANDS, Inc., are being converted into 32 loft apartments, ranging in size from 750 to 1,150 square feet, according to the project website.
The project is expected to be completed by the end of this year, according to property manager Andrew Davlouros, and will also contain over 10,000 square feet of commercial art space. The project will cost approximately $8.2 million to develop and has received funding from the Neighborhood Revitalization Tax Credit Program, according to a statement from the New Jersey Department of Community Affairs. In June, Hat City Lofts was a recipient of the 2016 Smart Growth Award from New Jersey Future.
Hat City Lofts, along with Linc 32 and Linc 55 were primarily funded by the New Jersey Housing and Mortgage Finance Agency, a state agency which works closely with developers on projects that create and preserve affordable housing as well as promote community revitalization.
The Valley Arts District, part of which is located in West Orange, is a very walkable neighborhood and contains several restaurants like Hat City Kitchen, Libretti's, and The Appian Way, plus cultural centers like Arts Unbound, Luna Stage, and the Firehouse Gallery. Buses to Newark, South Orange, and Bloomfield serve the neighborhood, and there are two supermarkets within walking distance.
Nearby, other developments are also proposed. Eight apartments and a live/work space are planned for 281-287 Scotland Road and a new four-story building with 30 apartments is planned for 12-20 Canfield Street, according to legal notices. Plus, the Park View Tower Luxury Apartments development with 40 units is coming to 169-177 Central Avenue, and, according to a presentation from the City of Orange, there are plans for 128 rental units and a 'Riverwalk' at the Harvard Printing Plant site at 550 Central Avenue. The project has reportedly been awarded tax credits from the New Jersey Housing & Mortgage Finance Agency.