A long-running legal saga hoping to turn an abandoned rail line into open space might not be headed for a quick conclusion, but that isn't stopping one architecture firm from sharing what they think a potential park on the land should look like.
Formerly known as the Harsimus Branch of the Pennsylvania Railroad, an elevated rail line built in 1902 once carried goods through Downtown Jersey City to and from the waterfront. The structure eventually became obsolete and shipping giant Conrail decided to sell the six blocks of properties to local developers Steve and Victoria Hyman during the early 2000s.
A lengthy court battle with Jersey City over the land has ensued, but Mayor Fulop announced back in October last year that a settlement has been agreed upon in principle between the parties. Under the deal, New York-based Albanese Organization would pay to acquire the properties along with development rights to build two towers on the eastern end of the Embankment.
The city would be deeded control to the remainder of the Embankment under a conservation easement free of charge and be responsible for building out the greenspace. Buenos Aires-born Jorge Mastropietro, who heads a SoHo-based architecture firm, has now revealed a few ideas for the parcels that would combine into what he dubs a Jersey City Arts Line.
"Working on projects in and around Jersey City for quite a few years now, we believe that we are a part of this big community," the firm says. "With the Embankment left untouched, we took a step forward to rethink our outdoor experience."
Mastropietro's proposal is designed with minimal intrusion into its surroundings and would designate six zones along the Embankment's sections. They include blocks dedicated to sculpture, painting, literature, dance, theater and film, and music.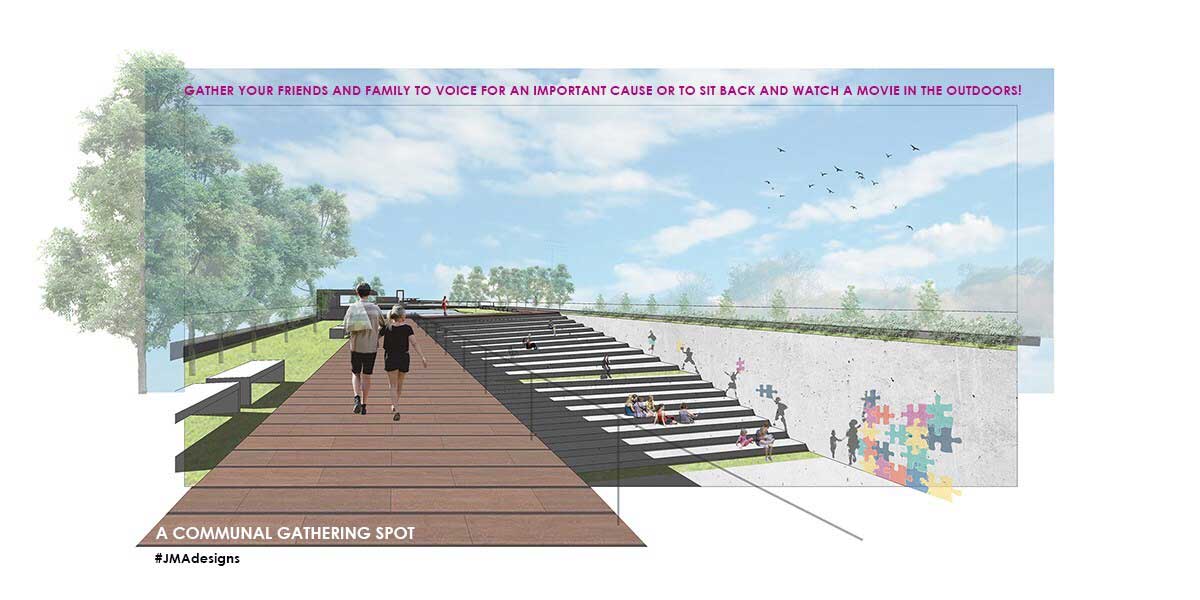 A stroll through Mastropietro's proposed park would provide a place to relax, a platform for locals to exhibit their skills, and spaces to appreciate art in a place that is near nature. The plans envision multiple free-standing kiosks that would allow families to participate in art lessons organized by the community.
The different sections in the proposal would be connected via walking trail cuts through the existing landscape. The park would include several plazas and activity zones along with water retention ponds that would be utilized to reduce storm water runoff and help to improve the air temperature and quality during summer.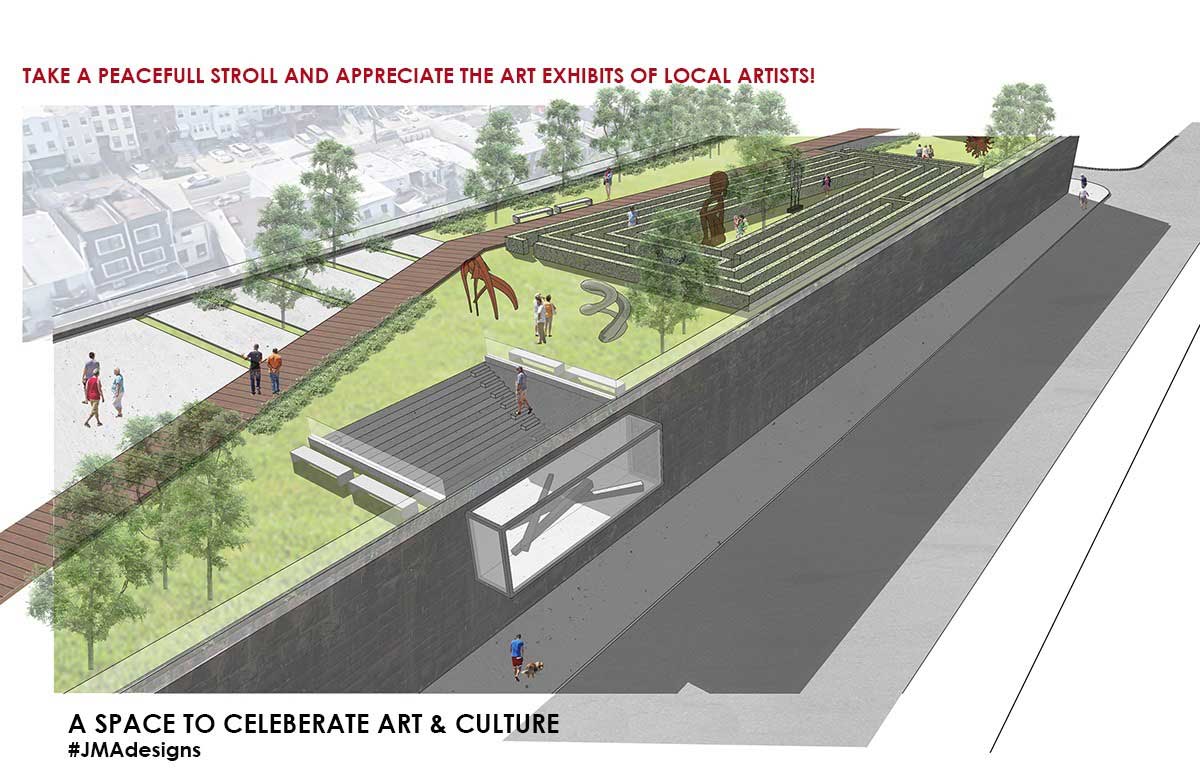 "We live in an era where the outdoor time spent is either amidst traffic or tall structures with minimum interaction with nature nor direct sunlight," Mastropietro wrote when revealing the plans. "Our proposal elevates us from the chaos on the ground and transports us to a space that is surrounded by green foliage and provides us with an opportunity to connect back with nature and stay healthy."
While officials haven't yet weighed in on Mastropietro's proposal, his Jersey City cred is notable. He has designed projects along Central Avenue in The Heights, worked on low-rises in Paulus Hook, and developed 54 Bright Street and the living moss mural that adorns the building. He previously worked under Rafael Viñoly, who is behind the design for Hudson County's new courthouse that's currently under construction.
The firm behind the design is looking to keep the conversation going about the Embankment's potential future and can be found on Instagram at the handle @jorgemastropietroatelier.
Related: