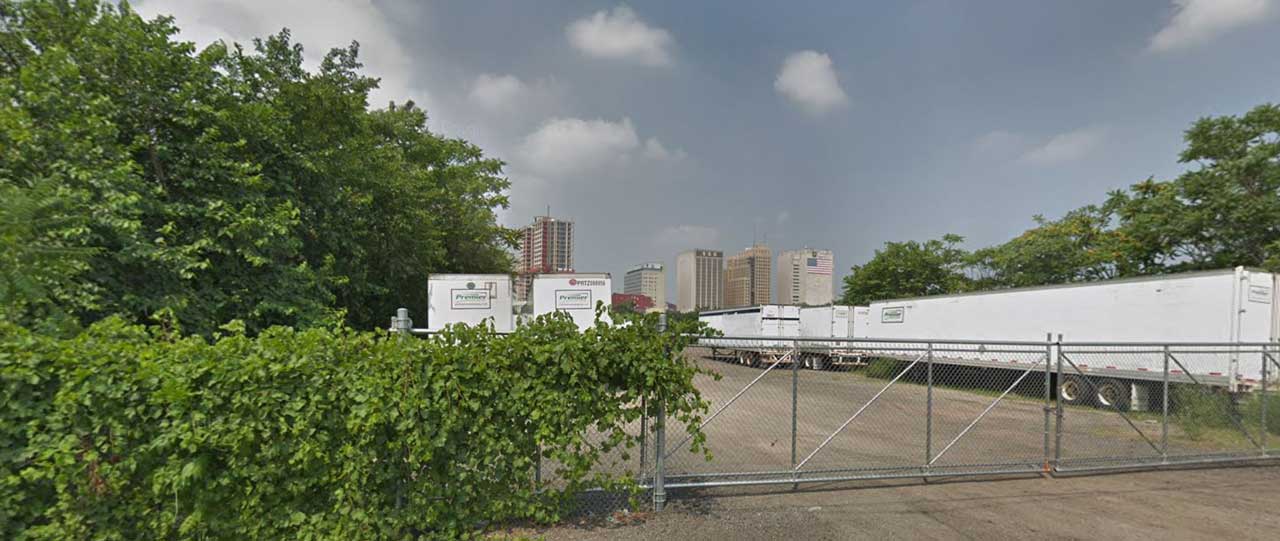 While the Passaic River has long been lined with industrial properties as the waterway winds through Essex, Passaic, and Hudson Counties, the factories, warehouses, and vacant lots are rapidly transitioning into parks and apartments. Nowhere is this more true than in Harrison and Newark, where projects like Riverfront Park, Red Bull Arena, and Steel Works have changed the neighborhoods within they are situated. Yet while multiple developments have already opened in Harrison over the last few years in what some developers are referring to as the "Riverbend District," it appears that many more are on the way.
A five-story all-residential building is being proposed for 1-15 Railroad Avenue, a property that actually sits across 1st Street from Railroad Avenue and stretches west to the river. If approved, the development would include 91 units, according to a legal notice. Sitting in the shadow of the Downtown Newark skyline, the gated property currently sits vacant but appears to have been used over the years to store trucks.
The project developer, Supor Properties Railroad Ave., LLC, was incorporated with the State of New Jersey in August. The company is seeking Preliminary and Final Major Site Plan approval with variances in connection with development, though few other specific details have been released yet about what the LLC is proposing.
As of when the legal notice was published on November 10, the matter was scheduled to be heard by the Harrison Planning Board this Tuesday, November 20, at 6:30 p.m. An agenda for the meeting was not posted on the Town of Harrison's website, though a calendar listing mentions that it is expected to start at 6:00 p.m.
The news of another project near the Passaic River in Harrison comes a few months after we revealed plans for another waterfront development near the corner of South 1st and Bergen Streets. That project is expected to include 552 units.
Note to readers: The dates that applications are scheduled to be heard by the Harrison Planning Board and other commissions are subject to change.