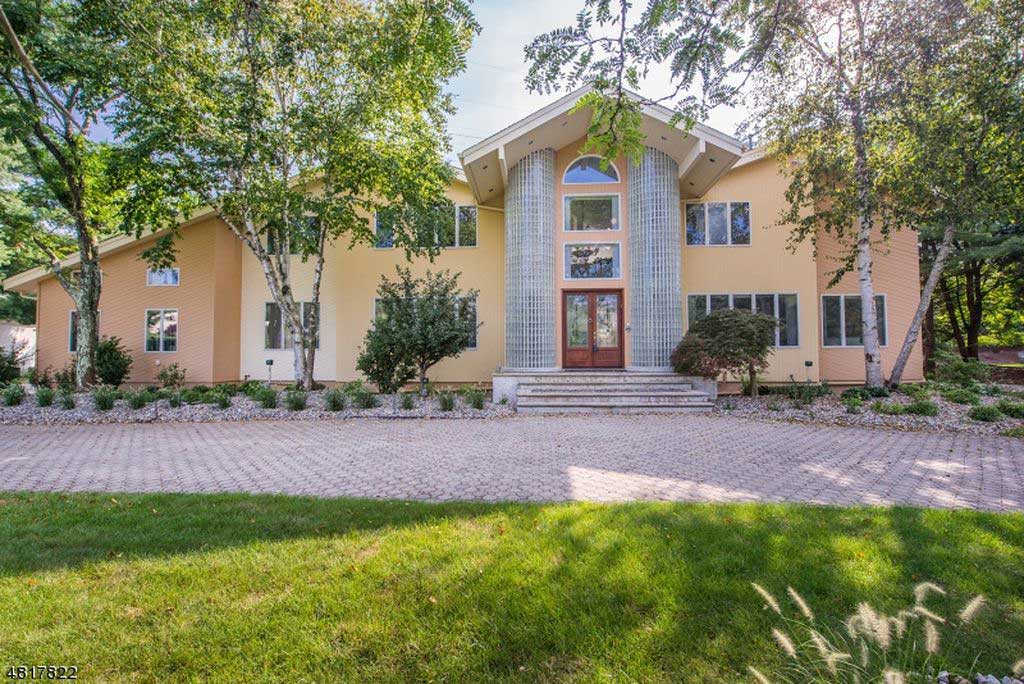 Located on a quiet cul-de-sac, in the Laurel Hills area of Livingston, a custom contemporary home on an acre of land asks $1,450,000.
The exterior geometry of the home feels sprawling and disconnected, each volume is a different shade of yellow-orange with massive glass block shafts flanking the main entrance.
When you enter, the interior feels cavernous and cold — overusing high ceilings in a way that doesn't feel special anymore — with stark white walls throughout the main living spaces and excessive marble flooring.
Coming in at 11,000 square feet, the home includes seven bedrooms, six baths, and an enormous finished basement.
The master suite is complete with its own deck and custom-built walk-in closet.
The massive gourmet kitchen houses ten skylights, flooding the space with natural light from above, as well as through the windows that face the backyard. An island provides counter-height seating options, and a regular-height table — designed with the base to match the cabinetry and the top to match the counter — is also provided within the space.
The home's outdoor amenities include a 78-foot deck, with a generous outdoor grilling station, and an in-ground pool and hot tub, providing space and entertainment for guests.
The home, located at 4 Dartmouth Court, is asking $1,450,000.
Listing: 4 Dartmouth Court [Zillow]
—