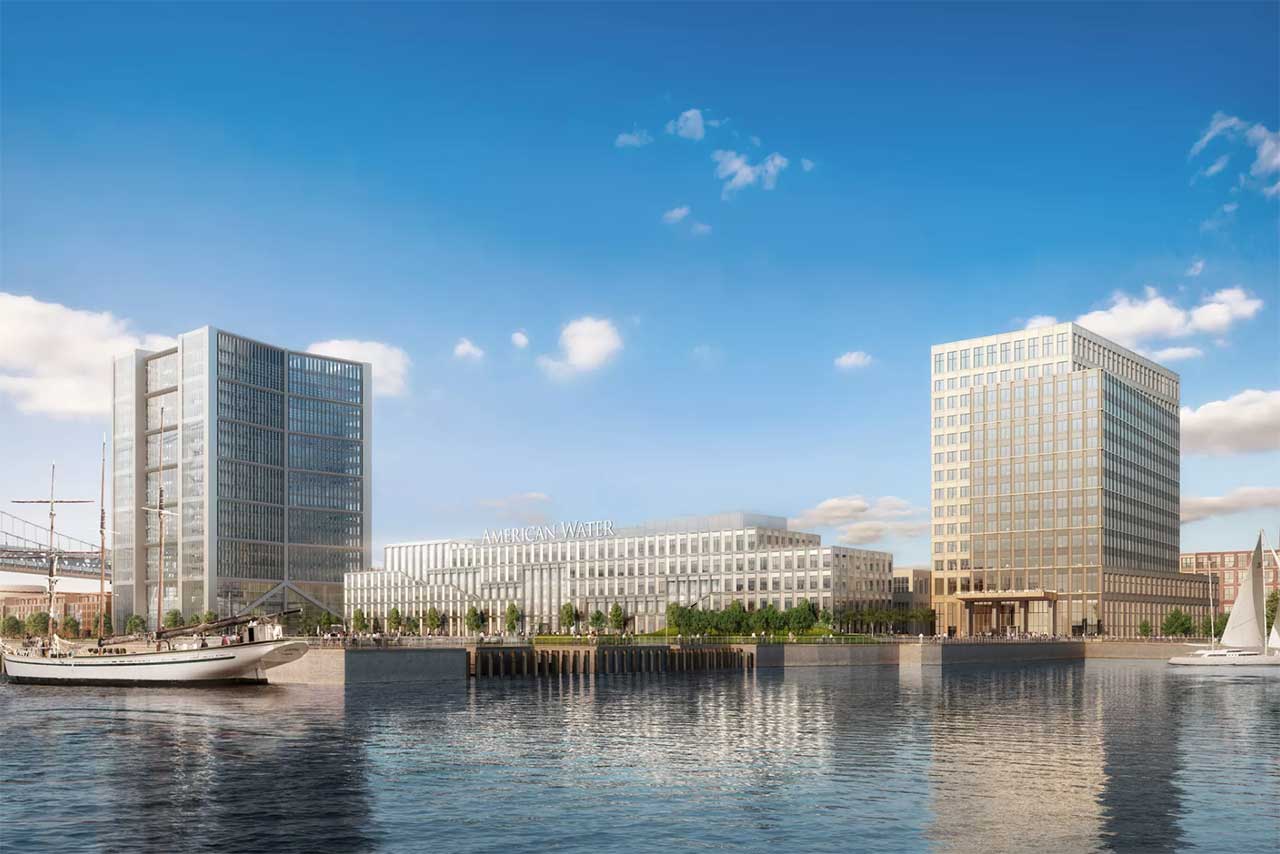 Announced in September 2015 and negotiated for over a year by Liberty Property Trust, the $1 billion Camden Waterfront project is now under construction. The master plan, designed by architect Robert A.M. Stern, will include office space, a Hilton Garden Inn, 188 residential units, 20% of which will be affordable housing, and 2.5 acres of public space along the waterfront just off the Ben Franklin Bridge.
Described as "an energetic high-performance community" by Liberty Property Trust Regional Director John Gattuso, the first building to break ground was the American Water Works Company. The five-story, 222,376 square foot headquarters will open in 2018 and is planning to be LEED Platinum Core and Shell certified.
Liberty Property Trust has a Community Investment Agreement with the city of Camden, agreeing to recruit residents for construction, students for internships, and commission temporary murals for the project. They have also given $90,000 to the Union Organization of Social Service to train locals as trades. And Liberty Property Trust has committed to use Camden-based and minority-owned subcontractors, suppliers, and vendors.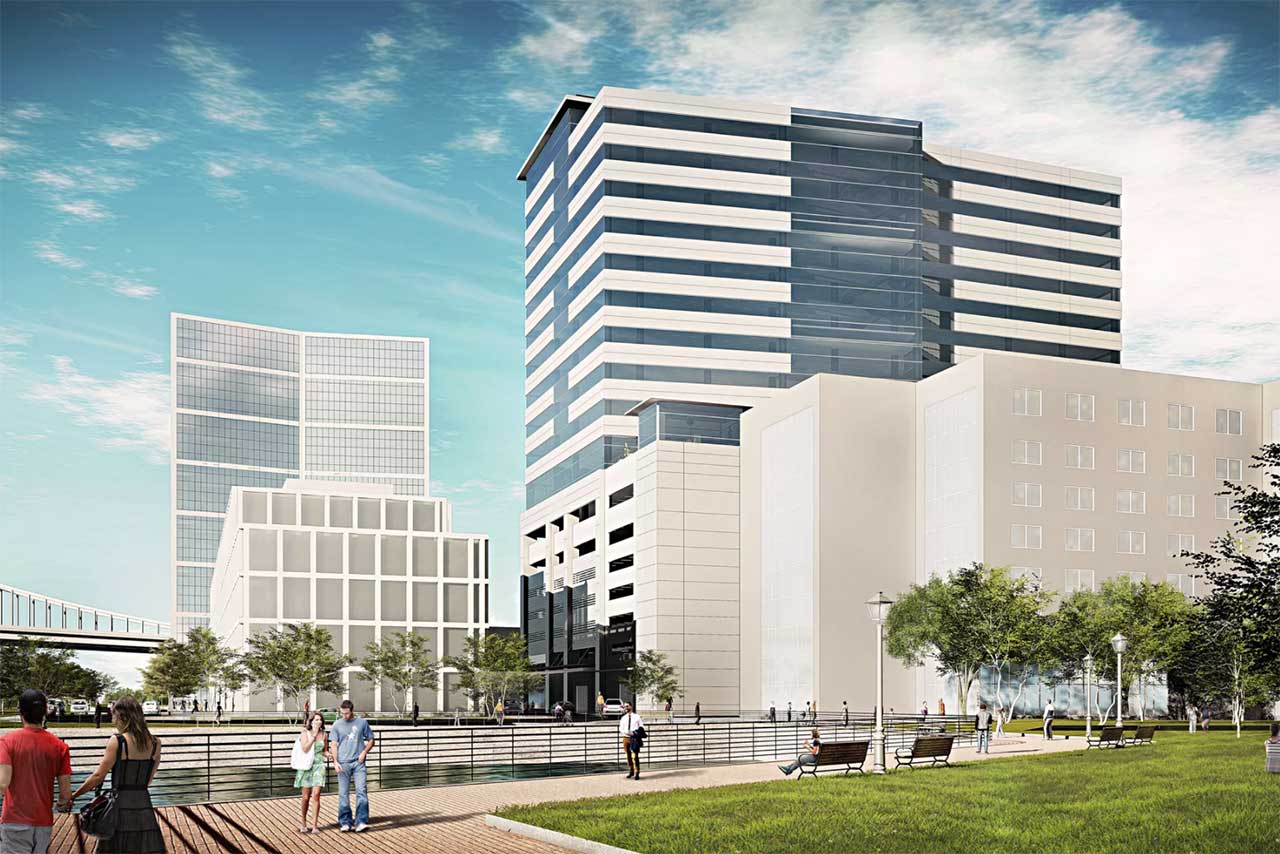 This March, plans for a $245 million office tower within Liberty Property Trust's Camden Waterfront project were approved. Called Camden Tower and expected to open in August 2019, it will be the tallest building along the waterfront at 18 stories and the combined headquarters for three New Jersey companies–Conner Strong & Buckelew, NFI, and The Michaels Organization.
The application for the project was submitted through the Grow NJ Program that awards tax credits to businesses creating or retaining jobs in New Jersey. Camden Tower will create 869 jobs and also feature an outdoor piazza able to host 1,000 people and views of the Delaware River and Philadelphia skyline.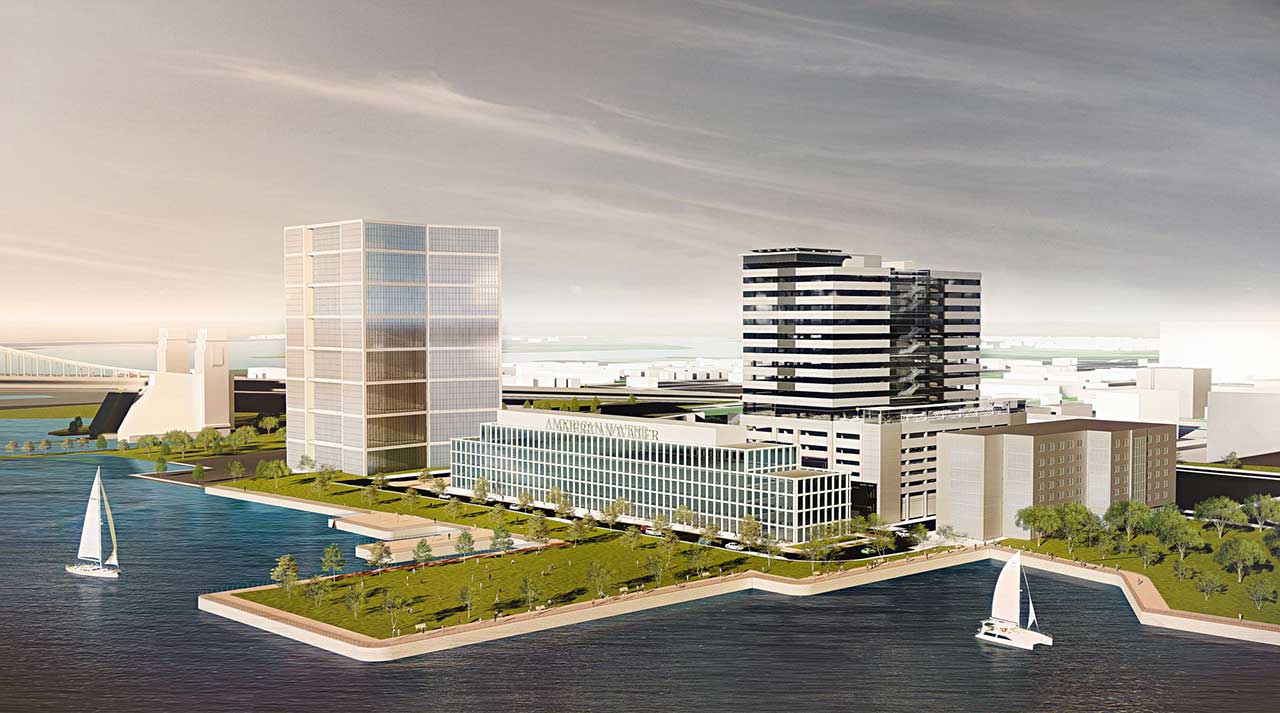 "The migration of American cities away from centers of manufacturing has posed a challenge few communities have been successful in meeting," said architect Robert. A.M. Stern. "Now here in Camden we are presented with an opportunity to make this city vibrant and viable once again."
The city has been infused with more than $2.5 billion in completed or proposed development over the last five years, including Subaru's headquarters, the Philadelphia 76ers' headquarters and practice facility, Holtec International's technology campus, and AeroFarms' second and largest indoor vertical farm. "The end goal is a sense of place, of community," said Mr. Gattuso. "It's about putting back in place the pieces that make up an intact community. There is no magic formula; it's just building things up, brick by brick. That's the impetus."