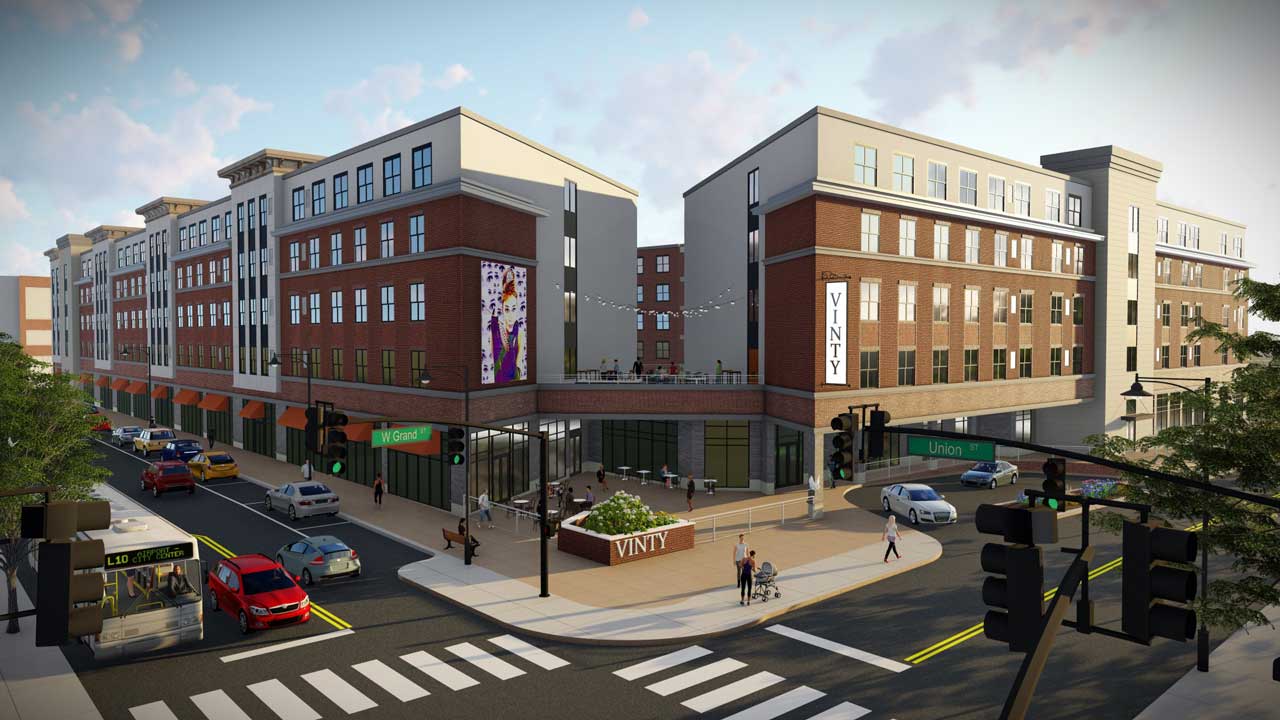 New information and renderings regarding an upcoming mixed-use project at the corner of Union and West Grand Streets in Elizabeth that we first told you about last winter have been revealed, as has a new name for the development.
A listing posted by Sabre Real Estate shows that the new 'high-end' five-story development that the Faros-Mas Elizabeth, LLC subsidiary of Faros Properties and MAS Development Group is bringing to 190 Union Street is now set to include 267 residential rental units. Plus, the building's ground floor is expected to include several commercial tenants and a lobby with a public cafe.
According to Sal Garcia, the Principal of MAS Development Group, the development will be known as Vinty, and will include amenities such as a courtyard with a pool, outdoor games, a large outdoor chessboard, outdoor fireplaces, cabanas, an outdoor television, a dog park, and a hydroponic greenhouse that would be developed in partnership with Groundwork Elizabeth. Community events are also planned for Vinty once it opens in 2019, Garcia explained. He added that the development's name is short for 'vintage city' because of Elizabeth's 350-year history.
The site, previously a long vacant lot that was used for parking, is across the way from the soon to be renovated main Elizabeth Train Station on New Jersey Transit's Northeast Corridor and North Jersey Coast Lines. Midtown Elizabeth and the Morris Avenue business district are also just a short walk away.
This neighborhood is also expected to become home to several other projects of this kind, including another from the same developer as 190 Union Street. Faros-Mas Elizabeth is planning a building at the corner of Westfield Avenue and Union Street that, as of last year, was slated to include 258 units, over 26,000 square feet of retail space, a swimming pool, fitness center, theater, spa, and an event and conference center. Sabre's listing identifies this project as Phase 2 of the 190 Union Street development. It also states that a hotel could be built just across West Union Street and shows that nearby lots along Murray Street, West Jersey Street, East Grand Street, and East Broad Street could soon contain developments with 64, 82, 85, 100, 250, and 500 residential units.