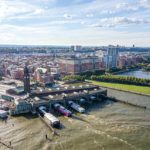 A recent report from The Real Deal is a bit of a good news, bad news situation for homeowners along New Jersey's Gold Coast.
Midtown Manhattan's monopoly on commercial leasing is under siege. Its biggest threat? Jersey City. The Real Deal reports that Jersey City is driving up the...
The Real Deal interviews the president of KRE Group on his $1 billion luxury rental complex coming to Journal Square Living in East Brunswick, NJ A...